Hello everyone!
There's a cheery greeting for you.
It's not a very cheery day today - it's not cold, but it's grey and cloudy. Still, we had a great time yesterday evening at the Richard Hawley concert. There was a small, raised seating area, where I grabbed a chair - we were there very early - but Mr FD chose to stand, as he thought it was a better view of the stage. It was in a small hall, which was great, and we met some interesting people to chat to, including someone who used to work at ILS (where I work - at least, until the end of October!)
As we were driving in to Clermont I spotted an advert for the concert, and was able to tell Mr FD that the support was the Smoke Fairies - another group that he likes very much. He was a Happy Mr FD!
They have a slightly different "timbre" to their voices - edgy, perhaps, or hard. I'm not sure quite how to describe it. What would you say?
The Hairy Spicy Bean and vegetable stew was lovely, and I have indeed made it into soup - Mr FD is heating a bowlful up in the microwave as I type. He's in a rush to eat lunch in good time before he goes cycling this afternoon. We'll be having the postponed prawn omellette tonight with a baked potato and coleslaw - in front of Strictly Come Dancing. Woo-hoo!
SUNDAY - Hairy Chicken Paprika - I think we'll have this with mashed potato and leeks. My teeth are already watering (as my Nana Disley used to say.) I shall go and get the chicken portions out of the freezer now, otherwise I'll forget and we could end up eating mashed potato and leeks. Full stop. Toodle pip. Back after lunch!
(Just to keep you informed, the soup was very nice. Possibly, even better than as the stew!! I added a bit more Harissa paste and a tin of ratatouille to make it go even further with fewer calories. It worked. I think we have enough soup to get us through till Thursday!!)
MONDAY - Hairy Meat Pie with carrots, broccoli and gravy. I made the pies a couple of weeks back, using pizza dough as a lower fat pie crust. It worked quite well, and half the recipe for 6 individual pies provided enough meat for 2 pies serving 2 people. No potatoes though as the crust will provide the carbs for today.
TUESDAY - Hairy Chicken Caesar Salad. The recipe says 2 chicken breasts. I think in a Thrifty way I shall use one. We'll be having this with a jacket potato so it will be more filling. Thus, I think one chicken breast will be sufficient. I might be tempted to fry some lardons and make it a chicken-and-bacon Caesar salad.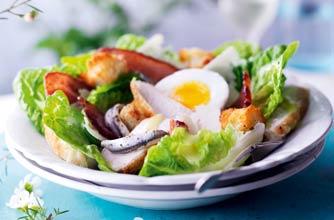 source
WEDNESDAY - Hairy Mediterranean burgers but I'm not serving them in a bun. It's difficult (impossible?) to find ciabatta rolls here, and the burger buns that are available are horrid pappy bread. So I think I'll serve them with salad and Slimming World chippies instead. The addition of a grated courgette bulks out the meat making it low fat. I may be able to get low fat Mozzarella - it's not always available in Lidl, but it sometimes is.
THURSDAY - We are having our Thermomix lunch today! Fish in a creamy sauce and Iles Flottantes. Not very good for a diet, but it's my one-day-after birthday lunch. And two-days-before Cathy's birthday lunch! In the evening it will be soup and something light. Or maybe nothing at all!
FRIDAY - Hairy Italian Meatballs You can use pork or beef mince for these. I'll probably go for beef as it's easier to find out what the fat content is. It's not often marked on the pork mince packs - though I could equally buy two low-fat pork steaks and whizz them in the food processor. That way I can gauge the amount of fat. I really like meatballs, so I will look forward to these.
SATURDAY - Cathy and I are having a joint birthday party, so I'm not counting today. I will make some low fat Hairy Roasted Red Pepper Houmous. There are mixed reviews of this on line. I'll cheat though and use roasted red peppers in brine, rather than roasting my own. Basically, sweat onion, cumin and coriander for a few minutes, and then cool. Zuzz the onion mix with the peppers, 400g (drained) tin of chickpeas, 2 cloves garlic chilli and lemon juice. It's got no tahini in, which is a flavour I love, so I may use sesame oil for the onions. I may well make some Nigel Slater full fat version too!
I'm thinking that if I try to dance the night away (not with Mr FD though. He loathes and abhors dancing!) I may burn off at least some of the calories I consume!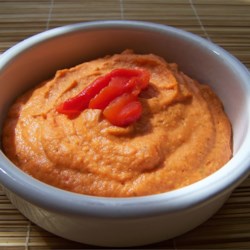 source
SUNDAY- Hairy Cheesey pasties - not a very "Sunday" meal, but never mind! I hope that the pasties freeze well, so I'll make all 8, and freeze 6 for other meals...probably lunches. The recipe uses bread mix, instead of traditional flour/fat pastry. I have seen various bread mixes on sale in Lidl, so I hope they work as well as UK bread mix! I'll also be using full fat cheese so will have to adjust the calories - half fat hard cheese is not easily obtained here. We'll have these with salad.
Nancy - what on earth are pot stickers and egg drop soup?! You sound as though you relish the thought of eating them, but they both sound more than a little suspect! Mind you, could they be any more suspect than "Hairy Cheesey pasties" - who wants hairy anything?! Thanks for your good wishes about the car bump. People have been so nice - including Mr FD!
PomPom - I wish I lived closer too. I'd be happy to have you over for dinner every week! Your blog is always so lovely that I am sure you are a wonderful person. Still, you can at least see what we're eating here. I am fine after bending the car - I was only reversing out of a parking spot, and I hit a stationary car, so there was no speed involved at all. I'm just so annoyed at myself!!
June - I'm not too sure I understand the copyright thing either, but some people maybe feel that they don't like others using their pictures for whatever reason. I think the two pics I've used are okay, but I've linked to the source. Though I don't know if that makes it any better! Thanks for your good wishes about the car bump too!