If you have a nice bit of food it makes you feel good
"If you can eat with mates or friends or family, I mean, it's such a brilliant thing isn't it? If you feel really rubbish and you have a nice bit of food it makes you feel good, you know?" (Jamie Oliver)
Not a particularly erudite quote but how right he is! We will be eating with friends tonight, and, I think sharing cake and champagne with other friends tomorrow.
The cake-and-champagne is because tomorrow we will be voting in the Mayoral elections here in France for the first time. We probably would not have got round to bothering to register, but our amazing friend Clare, who seems to fit 10 times as much as anyone else into her life, is on "the list" for one of the candidates and mobilised the English voters in the commune to register!
The Mayoral candidate presents a list of the same number of people as are on the Council; then, according to some complicated system that I don't fully understand people from one list, or the oppositions' lists are voted on the Council. There are only two candidates in our canton: the present mayor, who has done quite a good job, and another guy. Clare is supporting our current mayor, and I must say that, even without her presence on the List we would not be voting for the opposition, who is right wing, and appears quite hypocrtical in values stated and actual family situation...So we are going to celebrate our involvelment in village politics, if not Clare's election ontto the Council! And the cake? Well, today's 40 Acts is a cake making challenge, and I really want to try the recipe for Humming bird cake (from last week) so it's a no brainer: Hummingbird cake to share with friends.
We'll also be celebrating Mr FD's new job, which he starts on Tuesday!
I think the way I plan our meals, and what we eat, is going to have to change a little in the coming months: We think that Mr FD will be arriving home at 6.30-ish, and because of the increase in hours that I have (huzzah!) on three, or maybe four, days a week I won't get home until after 7.00. He won't necessarily want to start cooking from scratch (unless it's an easy meal) and I certainly won't want to!
So I think that when I do have time to cook properly (which looks like weekends and Tuesday) I will have to do more batch cooking and freezing than I have before, and our meals maybe won't be quite so varied. At the moment, I try not to repeat a meal during a month, but I'm thinking that will change. We will continue to fast, but I think it may become a "semi-fast" with an aim to eat under 1,000 calories two days a week, rather than the prescribed under 500 calories - I fear that if I'm teaching, and driving home lateish, the slightly wibbly feeling I get from fasting might not be a good idea!
Our meals this week look like this:
TODAY
Out with friends
SUNDAY:
However, this will be light on lamb and heavy on vegetables, in the hope that I can get 4 servings out of it. So I will add some butternut squash (in place of the sweet potato), some ordinary potatoes, and some pepers. Then I will freeze 2 portions. I'm also planning to cook 4 portions of Hairy Dieters Chicken Provençale to freeze as well - the only problem with all this freezing is finding room in the freezer for it!
semi fasting
This will have kidney beans rather than haricot beans (Mr FD prefers them) and again, I hope to be able to freeze some.
TUESDAY
WEDNESDAY
I have a rather tasty potato-duck-and green-bean mix in the freezer.We'll have this, with extra green beans &/or a green salad. Not very diet-y, but still - very nice!!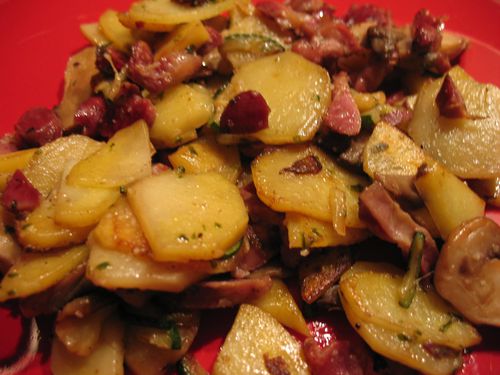 Just add green beans to the image!!
Chicken provencale, cooked last Sunday. Mr FD can plonk it in the oven. We won't have any starch with it.
FRIDAY:
Next week I hope to have some Happy news to share about Friday, but it will mean we get home late. I think this will be a quick fresh pasta and ready made sauce meal.
I have been involved in 40 Acts. Can I encourage you to go over to
The View from the Teapot
to read what I've been doing, and especially to read
Keith's guest post
about the charity Lend With Care
As usual, thank you dear Readers for your comments.
ANGELA: At dinner parties/meals with friends we definitely serve both cheese and dessert, and, according to French tradition, we have cheese first and then the sweet stuff. It gives an opportunity to finish the wine, (or an excuse to open another bottle!!) before the sugar interferes with one's tastebuds.
THEN
POMPOM: As you will have read, Mr FD did get the job! Huzzah for Him! Did you sort out your blip?
KEZZIE: The stir fry was good, but didn't look as pretty as the one in the photo!
DAWN: Thank you for saying the menus looked good...in general they were! Although (don't tell anyone!) we had take out pizza last night, rather than the planned gnocchi. I just fancied a pizza!!!
LORI, KEZZIE & MICHELLE: Thank you for congratulations on the job news. We are both really rather chuffed!
KEITH: Thanks for your comment too - I'd love to meet for lunch, IF I CAN! Lunchtimes may become a sandwich-eaten-in-the-car if all the possible lessons happen on the same day! If you have plans to come to Clermont let me know, & we'll see.