Recipes, Menus and other fun stuff.
January 2nd
I was searching online for some recipes yesterday – though heavens knows why as I have recipe book upon recipe book to use! – and I came across this part of the BBC Good Food site "7-a-day" recipes. I really am not that good at getting my 5 a day, never mind the now recommended 7 a day, so I thought it would be a useful site to bookmark for future reference.
SOURCE: bbcgoodfood.com
I have chosen two of the recipes for meals in the next week, so I can report back on them. These are the recipes I'm using:
Mushroom fajitas with avocado hummus (4 of your 5 a day)
1 large avocado, stoned, peeled and chopped

400g can chickpeas, drained and rinsed

1 garlic clove, crushed

zest and juice 1 lemon

2 tomatoes, deseeded and diced

1 red onion, cut into thick rounds

2 large flat mushrooms thickly sliced

2 tbsp olive oil

2 tsp fajita spice mix

4 tortillas

shredded Little Gem lettuce and Tabasco sauce, to serve (optional)
Put the avocado, chickpeas, garlic, lemon zest and juice in a food processor and whizz together until it forms a chunky consistency. Spoon into a bowl, season and stir in the tomatoes.

Drizzle the onion and mushroom with the oil and sprinkle over the fajita seasoning. Heat a griddle pan over a high heat and cook the onion for 2 mins on each side, then remove from the pan and keep warm. Cook the mushrooms for 2 mins on each side or until softened and turning golden in places.

Spread some of the avocado hummus down the middle of each wrap and top with the mushrooms and onions. Add shredded lettuce and a dash of Tabasco, if you like, and wrap up.
Lamb with buckwheat noodles & tomato dressing (4 of your 5 a day)
·
12 cherry tomatoes, quartered
·
1 tbsp sweet chilli sauce
·
1 red onion, halved and sliced
·
1 carrot, cut into matchsticks
·
1 red pepper, deseeded and sliced
·
100g shredded white cabbages
·
200g lean lamb loin fillet or steaks, diced
·
4 tbsp chopped fresh mint
1.
Lightly squash the tomatoes with the fish sauce, lime juice and zest, and the chilli sauce. Cook the noodles following pack instructions.
2.
Meanwhile, heat the oil in a wok and stir-fry the onion, carrot and pepper for 5 mins or until softening. Add the cabbage and cook for a few mins more. Remove the vegetables from the pan, add the lamb and cook for 5-8 mins so that it is still tender and juicy. Take the pan off the heat, toss in the noodles, vegetables, tomato dressing and mint, and serve.
I've got some cooked lamb in the freezer so I shall use that up. We won't be using buckwheat noodles either – I've never heard of them, and can't imagine they'll be easy to find in Carrefour, so we'll be having the usual egg noodles instead.
We had planned to eat with friends yesterday, but as G's father died on New Year's Eve they weren't exactly in party mood. As I'd bought the meat (wild boar) I cooked it up, and delivered half the casserole to them anyway, so they could enjoy it! We ate our share last night with some mash and green beans.
FRIDAY (today):
The rest of the guinea fowl from NYE, with gratin Dauphinoise and carrots.
SATURDAY:
Frugal Queen's pulled pork, with baked potatoes and coleslaw
SOURCE: en.wikipedia.org
SUNDAY:
Chicken in cider sauce, mash, veggies. I'd planned to cook this before Christmas but didn't get round to it. The chicken legs are in the freezer so I might as well use them. This is a Nigel Slater recipe – you can't go wrong with Nigel!
MONDAY:
Mushroom fajitas. Recipe above. I'll be teaching for the first time this year – I suspect I'll be knackered after a long day, but the actual cooking of the dish doesn't seem too complicated. We won't have Portobello mushrooms to use – I've never seen them for sale in France – I'll just have normal champignons de Paris.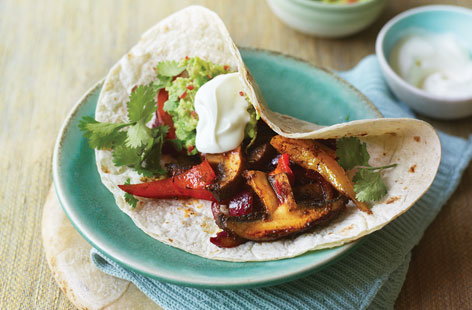 SOURCE:
realfood.tesco.com
TUESDAY:
Aargh. Back to fasting. This'll be a tricky one after the chocolate fuelled pig-out of the last fortnight. Still…No brekkie, soup for lunch and a Roast vegetable tray bake for dinner – basically squash, peppers, onions, leeks roast with Moroccan spices and served with feta on top. I may throw in some sweet potato too.
WEDNESDAY:
Dancing doesn't start till next week, and I don't have my children either. It's the first week back so we'll give them time to get settled before restarting lessons. I'll do the shopping today, instead of my usual Friday, due to a packed day (Clermont Ferrand, Roanne, Dance Group Galette des Rois) next Friday. We're having the lamb with noodles recipe for dinner.
Ooh look! I have two new followers from Nearly Martha. Martha says "I'm more of a Martha than a Mary sort. Always hanging aroung the kitchen doing useless stuff when all the interesting stuff is happening in the front room. I've been a signed up member of this Christianity lark for over 30 years now and as soon as I feel I'm anywhere near getting the hang of it you will be among the first to know." Her blog is definitely worth a visit.

Also there is Robbin too. Robbin doesn't appear to have a blog to link to, but it's good to have you along for the ride, Robbin!
A big fat Dormouse welcome to you both.
I'm planning on joining in with Vicki's Grow Your Blog event later on this month. If anyone else is interested in this you can hurry on over to 2 Bags Full to find out more. It's great fun and a good way to (a) find different blogs you might like (b) to find more followers.
Thank you for your comments on my last post - I always appreciate people who take time to comment.
BETH: Do explore zentangling - I find it relaxing and strangely addicive, but I prefer what folk call "Zentangle Inspired Art", which is the drawing + zentangling. I'm glad you enjoy reading the blog. You can try my other blog over at The Teapot too!
MAGS: I used to use Corrymeela liturgies a lot in the UK, and have started to introduce them (just a little!) in the Episcopal church here in France. I love them, like the Iona liturgies, for their here-and-now-ness!
ANG: I must admit to not having read much of Julian of Norwich - I do find it hard to grapple with! - but her "all shall be well..." sentence resonates with me. I once starred in a play written about her, but I can't remember much about it now.
POMPOM: Thank you for your kind words. Any time you're in France we'd love to see you!!
MICHELLE: Thank you too for your kind words! The little girls for whom I did the dolphin tangles seemed quite thrilled with them too. I'm working on a unicorn now - not for anyone, but just because I thought it would be a nice subject for a tangle.
Have a great day, dear readers.