La gastronomie est l'art d'utiliser la nourriture pour créer le bonheur.
"Gastronomy is the art of using food to create happiness"
Just a little gastronomic something I rustled up (not really!)
Mr FD is out collecting wood from a neighbour's wood pile at the moment (The neighbour, I hasten to add, has said we can help ourselves as they are never here in the winter!) and when he arrives back I must go (with joy in my heart and a song on my lips) (and a support belt round my middle!) to help him bring it in and stack it in the cellar. We can't use the potato hatch any more - there's a fridge freezer at the bottom - so we need to haul it in through the downstairs salon and down the steps into the cellar. With my level of fitness (both general and specifically lower back orientated) I can't see that I'm going to be much help, but I feel I should at least show willing (even though I'm not!)
Still, while he wheels wood from woodpile to car boot, I can sit here and blog my Sunday menus-for- the-week post. Mags pointed out that we are halfway through the post every day in November challenge, as though I would be cheering in relief, but actually I have enjoyed doing this. Taking a few minutes out of my day to write something, and to receive the odd comment or two (thanks to all commenters) has been good. I've only struggled once or twice to find topics to write on, and for those times I've referred back to the original challenge at
Rosalilium
where she gave some topics to use. I've not used them on the right day, but they've helped focus my thoughts. Mags and Pompom also helped with questions to answer.
This week's gastronomical offerings look like this:
SUNDAY (today)
At Noz I bought something like this, but for pork. (1€ for three bags) As I had a pork loin in the freezer, I thought it would be the perfect opportunity to try them out. So tonight we're having roast pork loin, roast potatoes (in goose fat. Best Roasties Ever!), carrots, broccoli and (I think there's one in the fridge) roast parsnip.

A proper roast dinner

;

Mr FD will be delighted. I have bought a millefeuille at the baker's this morning, so we'll share that for pudding
MONDAY
Mr FD is going back to college today! He is enrolled on a 9 week course in web development. This will lead to a French recognised qualification, and is only costing 140€ (+ the travelling costs, of course) so we have decided that his enrolment is a case of speculating to accumulate, as hopefully there may be some networking going on for jobs. He's not fasting - he doesn't want to faint of hunger mid-course. I am.
Dinner will be stir fried pork left overs and vegetables in a spicy sauce. Maybe with some noodles.
TUESDAY
Uh-oh. Mr FD has returned. Off to haul wood!
And, slightly breathless, I'm back.
For dinner tonight we're going to have
Layered Aubergine bake
from the BBC Good Food site. I have a squash - not butternut, but t
ant pis
- from our neighbours across the square. Mr FD did some work for them and was paid with a load of tomatoes, a squash and the glass bowl they were all in!
We may well have this with a bit of bread to mop up the plates. Maybe a green salad too.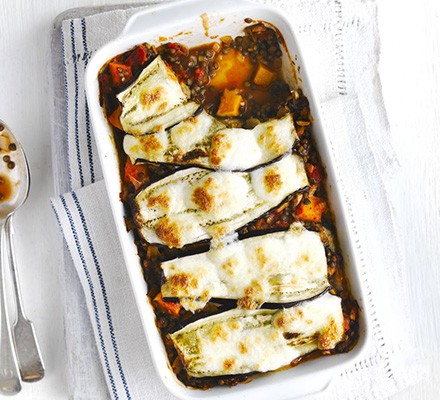 WEDNESDAY
Not sure who's cooking this one - I'm teaching, so won't get home till 7 pm...but we're not sure what time Mr FD will be getting home from St Etienne. So it's first person home cooks dinner!
THURSDAY
Fasting again
The usual CuppaSoup combo if needed, plus left over Aubergine bake for dinner. The bake serves 4, and is 359 calories a portion, so fits nicely into the 5:2 "calorie band" - but no bread this time!
FRIDAY
Anonymous
pasta bakey looking thing
that's in an unlabelled box in the freezer. Oooh! Excitement! What is it like?! What are the ingredients?!
SATURDAY
This week I appear to have relied heavily on the BBC Good Food site for ideas. It certainly does have some delicious sounding recipes on, so I have high hopes for these three.
Soups this week will include a "Chilli beef and tomato" soup (using up left over disappointingly not very spicy chilli) and probably a "Fridge" soup...I bought a big tin of ratatouille which usually helps with a fridge soup.
I also need to make an uber-simple Banoffee Pie for next week's Thanksgiving Dinner at church. I asked Mr FD if he wanted to come, and at first he seemed keen, but has decided not to come, because he wants to "chill" at the weekend, after driving a lot during the week. I'm a bit disappointed, but hey-ho, what d'you do?! I've asked Danièle if she would like to come - but she can't let me know till tomorrow. If not, I'll go by myself. With my Banoffee Pie.
PomPom

:

I know what you mean about exciting lives being over rated, but I can't help feeling that very few people out in the Blog-o-sphere really want to read about what seems to be a very unexciting life! Although, to be fair, I enjoy reading about other people's every day lives, so maybe my little joys and sorrows can be interesting! Certainly

Mags

& you seem to enjoy them!
On the Snow front, we had sleet on Friday - several of my students learned a new word as I bemoaned the sleet! It was horrid and cold and wet. At the top of the road to Roanne there was about 2 cm of proper snowy-snow-stuff (it's about 200m higher than the village) but the gritters & snow ploughs had already been out, so the road itself was clear. It won't be fun for either Mr FD driving to St Etienne or me driving to Clermont (I'm only once a week) during the winter, but with winter tyres and the good road clearing system here we shouldn't have too many problems. Fingers crossed!