A busy day today! And a couple more soup recipes
I have been working (or so it feels!) non stop today - but I will only get paid for 3 and three quarter hours! I have had 5x 45 minute lessons...but of course there is the associated paperwork, which I don't get paid for doing (grr.)
My timetable was:
9h - 9h45 lesson
15 mins - paperwork
10h-10.45 lesson
15 mins make & drink a cup of coffee
11h-11.45 Lesson
15 mins - paperwork (already falling behind on this, now!)
12h-12.45 - Lesson
1-and-a-quarter hours for lunch & relaxation
2h - 3.15 - a bit of www surfing, plus paperwork
3.15 - 4.00 Lesson
4.00 - 5.00 - paperwork & prep for tomorrow's lessons.
But now I can breathe and relax and take time to write my blog, because I have finished!
For lunch we had a delicious soup which I made- it was a sort of liquid chilli but without the meat! I cooked onion and garlic together for a while, with some ginger and chilli powder, plus some coriander and cumin. I added a tin of tomatoes, and some vegetable stock. (I think I also added some chicken stock to "oomph" it up a bit) I threw in a couple of handfuls of red lentils and half a tin of rinsed kidney beans. After it had simmered for 20 minutes everything was soft, so I zuzzed it until smooth, and finished it with the rest of the kidney beans, kept whole. Served with grated cheese and a dollop of sour cream this was yummy!
You could bulk it out more with grated carrot or courgette as well.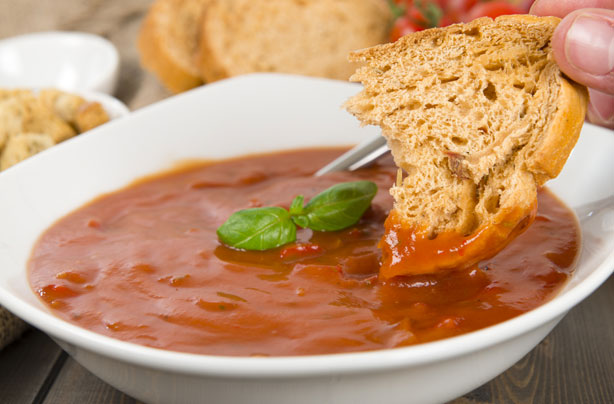 We were going to have chilli and rice tonight, but Mr FD has requested burgers, with chips and coleslaw instead. No problem...easier for me to make, I think!! I'm also going to make
this sweet potato and lentil soup
tonight...I may well throw in some parsnips too, as I've got some going wrinkly in the fridge.
It will go nicely with my tuna mayo sandwiches for lunch-in-the-car tomorrow.