Foodie Food, Sloths and Giveaways
Hello Dear People! I hope you are all well and warm today. It's been snowing here, so there's a sprinkling of white everywhere - which is bizarre after temperatures of 17° on Wednesday! I ought to go out for a walk but I fear my inner sloth will conquer
Here is another gratuitous sloth picture
How's that for a cute baby sloth?!

Apparently, my sloth name is Tootles The Graceful Bradypodian. You can find out your sloth name by going

here

.

So, Tootles is going to tell you about what she and MrTootles are having for their meals this week:

MONDAY:

Spicy bean and vegetable stew

.

This has been planned several times in the last few weeks and we've not had it for various reasons. Monday we will have it, because I'm preparing it on Sunday and having it ready to throw in the slow cooker early Monday morning before I head off to Lyon for a job interview (more details over at

View from the Teapot

)

TUESDAY:

The usual fresh

-pasta-and-sauce

combo, after a late night teaching/shopping. This time I'm using a meat sauce made up from a slow cooker meal a few weeks back. Quick and easy.

WEDNESDAY:

A new slow cooker recipe, as I've used quite a lot of the pre-cooked meals in the freezer and need to top them up. I'm cooking

Sicilean Beef

-

1 kg stewing steak, cooked with fennel (which I think I'll miss out), 2 green peppers, 1 aubergine, mushrooms, celery leaves, onion, garlic and tomato juice (passata for me)

I'm not quite sure what makes it Sicilean, to be honest, but there you go. Again, I'll cook the full amount to put 4 extra portions in the freezer.

THURSDAY:

I'm trying

Hairy Fish stew.

Again, this is another recipe about which I have my doubts - I'm not a great fish eater - but I've read good reviews of it. So let's try!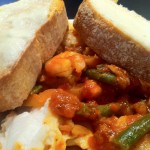 I'm not sure if I'll cook it without the croutons though. We'll see.
FRIDAY:
This is a Slimming World recipe -
Pasta with courgette and cherry tomatoes
. Basically, grate a large
courgette
and fry with a clove of
garlic
. Add 100g halved
cherry tomatoes.
Cook gently. Meanwhile, mix 2 tbsp low fat
creme fraiche
, 1 bunch chopped
basil
(or a tbsp pesto), 6 sliced
spring onions
(or 1 choppe red onion) and 100g chopped
cherry tomatoes
. As the pasta is ready, add your creamy mix to the courgette mix. Stir and heat gently. Add the pasta; mix it together and serve.
SATURDAY:
Slimming World
Shish kebabs
with kachumber and naan breads. The kachumber is basically a salad of cucumber, tomato, onion, green pepper with a lime juice & coriander dressing.
SUNDAY:
Another Slimming World recipe, with more meat - this week has been a bit meat heavy (I try to aim for 3 meat, 1 fish and 3 veggie meals a week. This week we've got 4 meat meals. Still....) This one is
Herby Mushroom Turkey Rolls
: make up a reduced calorie cream cheese/chopped mushroom/chopped herb/chopped garlic filling. Bash 2 turkey escalopes until thin. Spread with the mixture, and roll up into a sausage shape. Wrap in foil (very tightly) and simmer in boiling water for about 15 minutes. Unwrap to serve. To have with vegetables and Slimming World potato wedges.
LIGHT MEALS:
I'm going to make a butternut squash/sweet potato/parsnip/coconut milk soup tonight to last us through (I hope!) until Wednesday. Then I'll make a Bits From the Fridge soup to get us through the rest of the week. We've still got quite a few sandwich fillers - some cheese, a pack of ham unopened, some Quorn ham, given to us by a friend (which Mr FD won't touch & which I don't much like. Still, it's okay with some cheese and coleslaw in the sandwich as well!) and half a pot of chicken rillettes. I'll get 1 other item when I'm shopping - maybe a blue cheese for Mr FD. On Thursday, our something-on-toast day, I think we'll have scrambled eggs.
Now is the time to say a big hello to some more new followers. So welcome to
One Old Goat
, to Theresa, to Neesie, to Sandra at
Thistlecove Farm
(I thought you were already a follower, Sandra!) and to Hilary at
Threaded Life
. I think that's all my new Followers that I've said Welcome to. It's lovely that you have all decided my little foodie blog is worth reading. Thank you to Vicki too, whose Grow Your Blog party introduced us.
And as I suddenly remember, there was a giveaway connected with my Fat Dormouse Blog on GYB . Let me hurriedly do the necessary...
The chosen number was 16, and the 16th comment was Joy from
Gadget's Joyful Page
. She'll be getting a French recipe book as soon as I have her address. Sorry I didn't have one for everybody - but at least you can get some recipes here!
PomPom - thank you so much for your affirmation of my sweetness. Right back atcha, my girl!
Let's finish with another Sloth picture, just because...
And a LOLcat because I always do now: