Not quite the Saturday I'd planned!
Mr FD has been away for a few days and I went to collect him from Lyon airport on Thursday...Hah! There's a tale to be told...You can read about it here, over at the Teapot. Anyway, it's nice to have him back, although we're both suffering from coughs and colds.
Our friend Corinne is coming tomorrow for lunch - she and Mr FD love calves' liver (excuse me while I go and retch) so that's what they're having. I'm not. I'm having steak! Mr FD promised to cook it for her and so tomorrow is calves' liver day. With a salad to start (with magret de canard - smoked duck breast - walnuts and croutons) and a bought raspberry/myrtille tart from the patisserie to finish. Fairly easy to make - but the house needed a clean (doesn't it always?!) Four cats and an old house make for a lot of dust/cat fur lying around. Maybe I should get this book:
We were going to do it this afternoon together, as tomorrow morning Mr FD won't have time, due to an extraordinary AGM of the Cycle Club, but this morning he took some bikes down to Roanne with Alison and Gérome to try to sell them in the Trocathlon. This is a second-hand sports equipment sale that Decathlon organises every year: you take your equipment along to try to sell it, & I guess (though I'm not sure) Decathlon take a small cut from whatever you make. There was some kind of hold up, so he didn't think he'd get back till later...so, after making banana/nut/choc chip cookies, pumpkin-and-carrot Thai curry soup and putting tonight's dinner in the slow cooker I tackled the cleaning. Including the clearing and cleaning of six litter trays - yuckety-yuck! He arrived back just as I'd finished!!
I'd planned to have a relatively lazy morning trying to tackle the chaos that is my study, but frankly I can't be arsed now. Maybe tomorrow morning. I'd wanted a not-too-taxing morning, as I'd not slept very well during the week and still feel a bit woozy (although I had a good undisturbed 9 hours last night) - though that might be the antibiotics that I'm on for my cough which is still lingering on after almost 4 weeks. I dislike taking antibiotics, but at least have found that two pots of Activia products a day have helped mitigate some of the effects of the medicines!
Our food plans this week are as follows:
TODAY: Frugal Queen's pulled pork, with salad and coleslaw and bread. I think our slow cooker (which we got as a wedding present, 29 years ago!) is less powerful than Froogs' - the pork has been on "high" for 3 hours and "low" for 3 hours and still isn't looking ready to "fall apart". It smells lush though, so having switched it back to "high" I'm hoping that after another 3 hours it will be more inclined to allow itself to be pulled apart.
The plan is to use left overs for sandwiches, or to freeze some for another time.
SUNDAY: Aforementioned Calves' liver. I don't know how it will be cooked (I'm not touching it! That's Mr FD's dept.) but my steak will be rare, served with a dab of mustard.
MONDAY: (semi fasting) Chicken with chilli and leeks. I can't find a recipe online for this, but it is very simple:
Heat a pan with a misting of olive oil. Cook two chopped leeks and two chopped onions until soft, and then remove from pan. Put 2 chicken breasts to the pan & brown. Put the onion mix back in, and add 1.5 tbsp of chilli jelly (or sweet chilli suce or chilli jam) Transfer to an ovenproof dish and cook in oven at 190° until the chicken is cooked.
TUESDAY: Spicy pork chops with chickpeas This has spinach and chickpeas, but I might add another vegetable as well. Haven't decided yet.
SOURCE: csmonitor.com
WEDNESDAY: An easy one, for Mr FD to pop in the oven before I get home from dancing. Aubergine Gratin. I add mushroom to the mix, and use a cheaper pasta sauce from Lidl, but it's basically the same recipe. I can prepare this before I go, so Mr FD can have his apero night at Alison's if he wishes!!
THURSDAY: Chausson farcis (Stuffed slippers!) - I'm not making my pastry (pouf! I'm using bought puff pastry) and the cheese is Feta, not Vache Qui Rit, but otherwise it's the same. With salad.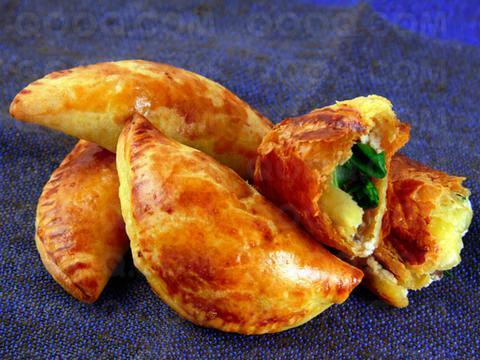 FRIDAY: It's the Fat Dormouse Fat Fifty-Fifth birthday!! Maybe we'll go out...BUT our friend Steve is coming over, briefly, and it would be good to see him. There is talk of aperos at Alison's, so we will see what happens there. He's bringing a car over for Jean and Claire, then taking an old one back to the UK (he runs a garage). Foodwise - dunno. On verra!
I think full-on fasting is out at the moment - I tried on Friday, but with the antibiotics and cortisone I felt really wierd! I'll wait until I've finished the treatment before going for the full on fast that I usually try on Fridays.
Several people commented on the fact I've got Christmas prezzies (partly) sorted. It's really only because I love going to Noz and feeling I've bought bargains!

I went on Wednesday and bought another present - a Peruvian hat with ear flaps
What the intended recipient will make of it I have no idea! But I like it (but I'm not a young student at Lancaster University, am I?!)
I also got a bottle of fizz for 2,95€, some coconut milk Thai red curry sauce (used in today's soup) plus various other foodie items and some stationery too. A good haul, but I didn't have a lot of time to browse. Oh, and some yummy tortilla chips
I would very much like to pop back to get some more of these - but by next Wednesday (when I'm next in Roanne) they may well all be gone!
Thank you for your comments. I love hearing from you...I hope Cleo Bonbon finds some recipe inspiration - I really have high hopes for this pulled pork!! - and maybe some more of you willsign up for the Christmas swap. I'm looking forward to it (I already have some goodies from Noz put aside!!)