All on my Own...
...just for a few days though!
Mr FD has gone to the UK to visit his mum, while his sister & her children are over from Canada, and his cousins are visitig from Germany. It would have been difficult for me to get time off from teaching, so he went alone. And after all, I had a break in the summer, which he didn't, so he deserved a little holiday!
You can read about yesterday, when I went to Lyon to "see him off" (sort of) over at
The Teapot
.
This week I bought myself a few goodies to have, but mostly I'm eating from the freezer.
TODAY:
Steak, potatoes Dauphinoise, corn-on-the-cob, salad
MONDAY
(semi fasting): Lentil Dhal (not eaten last Thursday - see below for why) and rice.
TUESDAY:
Merguez and aligot. I bought the Aligot ready prepared, but here is a recipe, from
Saint Delia,
no less! To try to be healthy I may add a few green beans to this, and have the other corn-on-the-cob too. I suppose it's a French version of sausage-and-mash!
Source: forum.hardware.fr
WEDNESDAY: The other merguez, tomato sauce and fresh pasta - nice and quick, as I get in late from line dancing and don't want to be cooking till all hours.
THURSDAY: Soup, as I'm out to lunch with students.
FRIDAY (semi fasting): Garlic, herb & parmesan crusted chicken schnitzels. I can prep these before I go to teach/shop, and Mr FD can finish them off (he's back on Thursday evening) so they're ready when I get home at about 7.15. I'll have mine with green salad, he can have a frozen dauphinoise if he's not fasting. I've rather lost track of if Mr FD is fasting or not! He just eats what I give him!!!
So...why didn't we have the dhal last Thursday? I was teaching my usual Thursday students, a really funny couple called Barbara and Thierry. They are a couple, and they both work for SNCF, the French railway company. He is a train driver, she is a ticket inspector/guard. They are great and I get on very well with them. As part of their course, we get to go out for lunch once a month, and the Language School pays. We speak English and eat a good Menu du Jour and enjoy ourselves. It's still work for them, but they enjoy trying to speak English, even if they're not really very good! Anyway, last Thursday, Thierry asked if I would like to join them at his flat for lunch - he lives near ILS, while Barbara lives in a village outside Clermont, so they usually have lunch at Thierry's.
Never one to turn down food, I agreed. He has a beautifully restored flat, five/ten minutes walk from ILS, so we repaired there for charcuterie, followed by a typical Auvergnate
dish called Potée
:
If I'm honest, it's not smething I'll be choosing to eat again in the near future. Too many fatty pork products for my taste!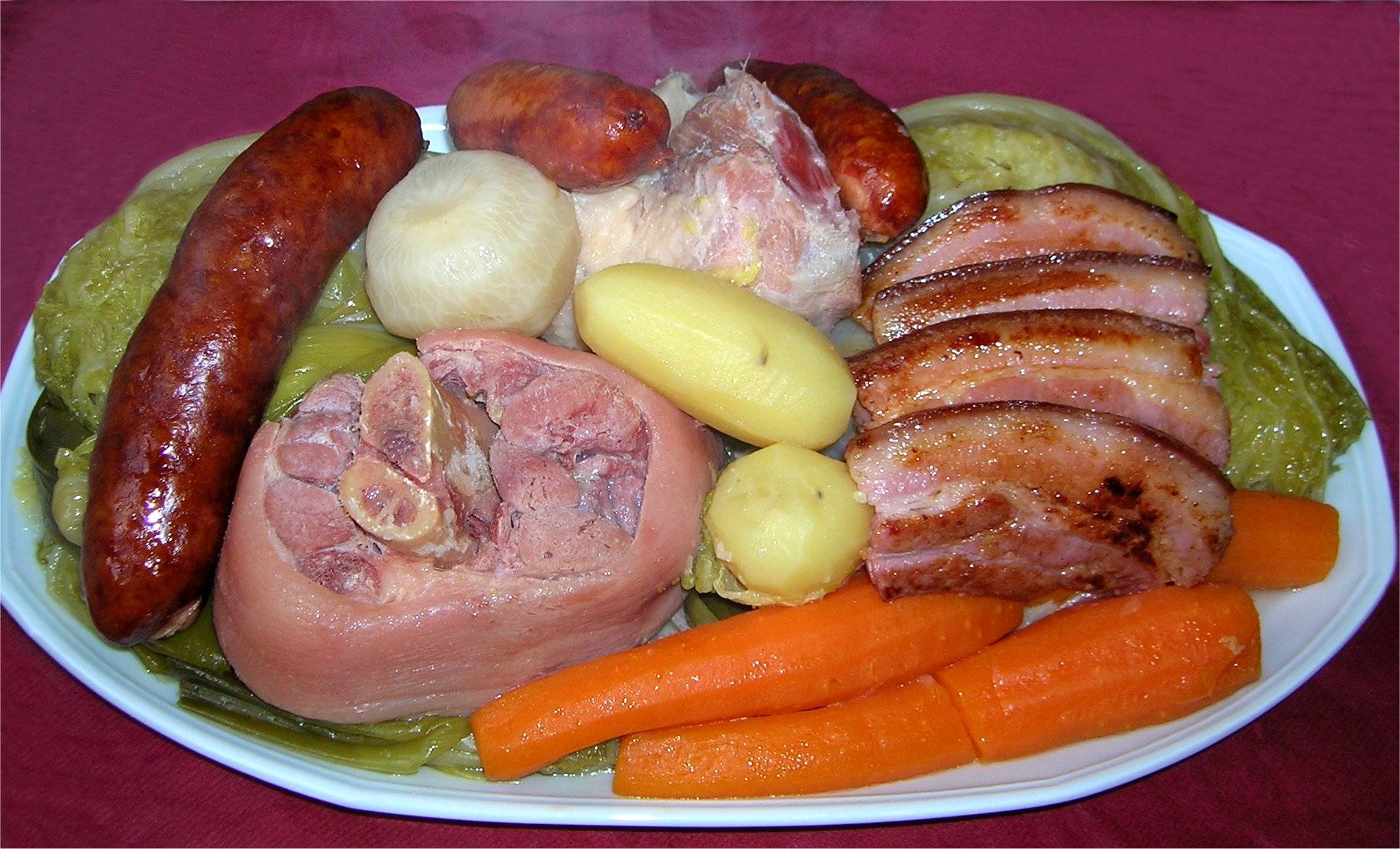 Source: recettessimples.fr
We finished with patisserie and coffee...then we had to go back for another lesson! After that huge lunch, I certainly wasn't ready to eat a dinner, so I made a carbonara for Mr FD and I had a slice of toast-and-jam for my dinner! I fasted on Friday instead, just having lamb tagine (smallish portion) and a small amount of cous-cous.
Thank You PomPom and Sandra for your comments. See, PomPom I've taken your advice and not gone for complicated meals while Mr FD is away. I'm glad you liked the LolCats, Sandra. I think the recipe-reading Kitten is particularly cute 'n' fluffy!
Now, I must go and cook some soup - curried squash-and-parsnip, I think. Nom nom.