I'm growing!
...but in the right way!
Hello to those visitors who have come by way of Vicki's lovely
Grow Your Blog
party! I hope that you will like what you read here, and that maybe you'll choose to become a Follower. That would be really exciting! I love it when the number of Followers shows an increase, and I hope that people do pop by to see what I've been up to from time to time.
I have two blogs. You may already have visited me at
Viewfrom the Teapot
, which is a less focussed blog, looking at my life in France – and life in general. This blog is more about food. It started when I was trying to lose weight and I thought it would be a good idea to be more accountable to people who were supporting me. Then I gave that up, and just started to share my menu plans and some favourite recipes...Now I am trying to lose weight again (6 kg lost so far!) I still share my menu plans etc. Mr FD comes on to find out what we're having to eat!! I do mention other things
en passant
...but it is mostly food!
I've always been a lover of food – and the more of it the better!! I recently admitted to my mum that when I was much younger I stole two shillings and sixpence (a florin, I believe they were called) from her purse and spent it on 6 cream cakes which I scoffed in the park! Mum was horrified - I'm not sure what she found worse: the stealing, what I bought or how I ate them!!
Mr FD and I always enjoy going out for meals, and while we have to live a slightly more frugal lifestyle here than we did in the UK, we do go out from time to time. There are two restaurants in our village. One is next door –
Hotel de Londres - they make great pizzas, and some good value one course+ salad + dessert meals, but they do lose out on the more extravagant menus to the other restaurant. The starter and main courses are comparable, but the cheese selection and pudding choice are not.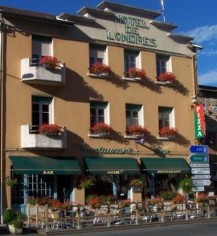 At
l'Hotel de la Poste the choice of cheese is out of this world, and the three- storey pudding trolley means that you gaze at it for hours, unable to make up your mind! Especially when you can choose up to three things!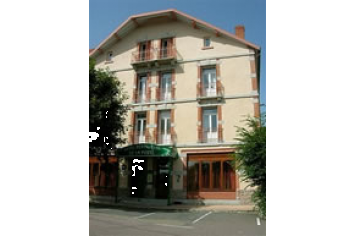 Where we live is not far from Roanne, the home of the world famous Trois Gros restaurant, with three Michelin stars). We have not eaten there; at 365€ per person for the menu (though admittedly with wine) it's a tad too expensive for us! It would be lovely to go just once though...Maybe I should start saving now and we can go for our 30th wedding anniversary. That's only 100€ a year to save up! But there are other wonderful restaurants around here where we can splash out!
Our friends treated us to a meal at Le Chateau du Champlong for our 50
th
birthdays. We decided to stay overnight as well, and that was a fantastic time. I kept the menu and look at it from time to time with a drooling mouth! (Unfortunately I can't find it at the moment to share it with you!!!!) There is the Auberge Costelloise (1 Michelin star) which we keep promising ourselves we'll go to. But there are other, simpler restaurants nearby too – the Belgian restaurant where we ate hearty Beef Carbonade and drank beer that was stronger than the bottle of wine our friends shared!
The wonderful Auberge du Moulin, where we shared with friends a simple platter of charcuterie, a roast chicken and the best chips we've had in France. Oh we are lucky to live here!!
While I've not always struggled with my weight, the proximity of such delicious food, a distaste for exercise and the onset of middle age has meant that I need to try much harder now. Mr FD also has a bit of an embonpoint if we are honest, but he loves cycling and regularly cycles 60 or 70 km at a go, thus using up many of his calories. I think I need to restart cycling – if you read back over this blog you'll see I set myself a challenge in 2011 to cycle 1,000 km in 6 months and to raise 1,000€ of sponsorship for a community school in Zambia. My money was put towards building a new toilet block! While I say I don't do challenge, in order to make me do something requiring effort I needed to have the motivation of sponsorship behind me...I'm not sure what I'll do to motivate myself this year!
(This is Mr FD and our friend. He is wearing the cycle club colours.)
This is me when I'd just done my 1,000 km!
I hope that you enjoy visiting me here, and finding out what we're eating. I'll post again tomorrow (Saturday. Or maybe I'll wait till Sunday) to let you know the menu plans for the week, so do pop back to discover what reduced calorie (or maybe not!) food we'll be enjoying in the coming weeks.
To celebrate Vicki's fabulous Blog Party I'm offering a small giveaway, suitably food inspired. I'll pick a name from anyone who comments (you don't need to become a Follower, but it would be lovely if you do!) and send them a recipe book. It will be in French, but it's reasonably easy to interpret with an online translator/dictionary. But I hope you'll stay for the craic rather than the giveaway!