catching up...
Mum was here this week so I didn't really plan meals so well. I knew we'd be going out - at least once - so I just "had things in mind".

We did have meals that were a little more elaborate than just potatoes! (The picture is Van Gogh's "The Potato Eaters", in case you're not sure!) This is what we had last week:
SUNDAY evening: Spanish Pork. I've cooked this before - basically pork and chorizo and peppers and olives in tomato sauce. Mum arrived in time for lunch (quiche) and we went for a stroll in the afternoon.
MONDAY:
Aubergine Parmigiano
(RC recipe adapted, to include mushrooms) It all went a bit sloppy but it was delicious.
TUESDAY:
We'd planned for Alison's mum and dad to come for a meal, with Cathy, but as A's dad wasn't well, they decided not to come. So it was me, Mr F-D , F-D Mum and Cathy. We had a
Mr F-W salad
, about which I was (yet again!) dubious, but which was very good! I followed it with a chicken dish which I've cooked before, but can't find an online recipe for...It's very simple and easy. Recipe (ish) at the end. Cathy made a chocolate,pear and almond tart. Myam, myam!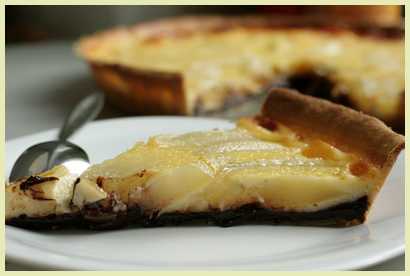 WEDNESDAY Out at the local restaurant, pictured at the end of last post. I had a large plate of charcuterie, followed by stuffed quail. Very nice. We invited Richard to join us - he seems in good health after his ordeal, in fine form, and, for reasons best known to himself, quite keen to go back to Zambia...!!!
FRIDAY
We went out to this restaurant
Jacques Coeur
which is about 30 minutes drive from us. It was very good - it's not got a Michelin star, but has a "bib" which is the step just before a Michelin star. Mr FD and I had the Menu Jacques Coeur, which was foie gras, followed by the signature dish:
Now, I know that just looks like a pie, but, oh! What a pie! half a boned Poulet de Bresse, with morilles in a cream sauce. The waitress warned us that it was big, but actually it wasn't really too big. Just nearly too big!!!
The one slightly odd thing was that we had to choose our puddings before we'd started, which certainly isn't very common. We didn't know how full we'd be, or what kind of pudding we would fancy, but I chose what I guessed might be the lightest and fruitiest - "orange soup". It was perfect: juicy, slightly tart oranges, in a light alcoholic "soup", with a speculoos biscuit and a dab of sorbet. Certainly a restaurant we'd go to again (although Mum was dissappointed with her kidneys: she felt they were rather too "toothsome")
SATURDAY: Mum was a little sad that she'd not had her favourite Magret de Canard so I cooked duck for her. We had fish soup (bought),
with croutons, cheese and rouile, and then duck. I made a sauce from a couple of spoonfuls of chutney, a sautéed shallot, some stock, and a glug of red wine. I roasted potatoes in duck fat, and we had carrots, broccoli and roast vegetables too. I bought three little éclairs and three strawberry "verrines" from the local patisserie. We ate very well.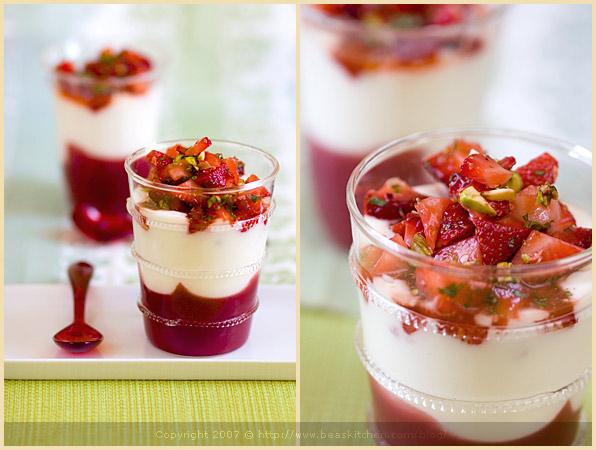 RECIPE (sort of)
Brown an appropriate number of
chicken legs
in oil. Remove. Sweat an
onion
(or two), add
garlic,
sliced
red pepper
, and sliced
chorizo.
Cook for a couple of minutes more. Add
paprika
(or cayenne pepper) and
dried thyme
. Then (for 4 people) add
basmati rice
measured up to 8 fl. oz in a measuring jug. Stir so the rice is covered with the mix. Add 75 ml
white wine
and 175 ml of
chicken stock
. Put chicken on top, nestle wedges of
orange
and
black olives
among the chicken. Cook at 180° for about 1 hour, until the rice has soaked all the liquid. Keep an eye on it, and add more stock if it looks sticky and the chicken's not yet cooked.