Planning Ahead for Weight Loss
Well, we have had a fine few days of eating and enjoying ourselves with friends!! Our friends, due to come today, came yesterday, and we had the wild boar haunch that my student gave me - it was delicious! I reproduce the recipe I used (with its slightly bizarre translation!) for anyone else who might find themselves with a leg of wild boar to cook: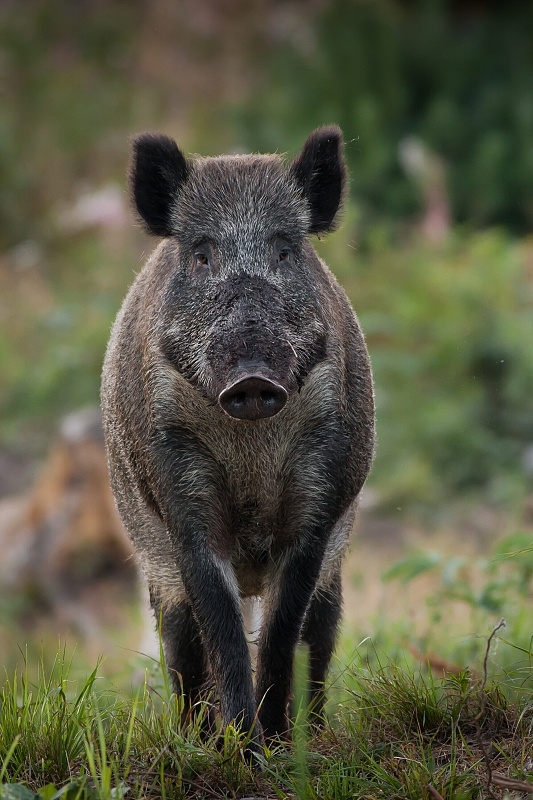 Marinate one night in 1 or 2 bottles of 75 cl of classic strong red wine. The marinade must reach at least half of the leg, so when you turn it up (every 3 hours), all parts will have been eventually
marinated.

In the marinade, put:
- A spoon of wine vinegar and 1 of olive oil.
- Onions in slices
- Crushed garlic
- Carrot sliced.
- 1 branch of celery, bay leaf, pepper, and from the hills of
Provence: thyme, rosemary and a few of these juniper black berries.
On the D-day, take the piece of venison out of the marinade, and any time well before: Strain all the onions, carrots etc... Take a casserole, put olive oil and butter and dry and colour all
the strained onions etc... Add two big spoons of wheat flour on this, mix and let get it brown. Pour all the wine and first boil strongly then keep gently boiling until well reduced. Add if you want a small glass of brandy or Armagnac, and a small piece of peeled lemon skin. Keep this on fire for an hour. At the end it must look like a thick sauce but in good quantity. Strain to keep only the liquid part. Do not try to correct or re taste, just keep it warm. Keep your meat all day out of the refrigerator. Pre warm your oven and place your venison on a steel dish. Put pieces of butter on top, salt, pepper, herbs, and garlic "en chemise" on the steel dish.
Cook like a roast lamb leg for at least 1h30, more if bigger than the usual lamb leg. Pour small glasses of water or white wine in the dish during the stay in oven. When you think that your leg is cooked, take it out and put the dish on a gas to scratch all juices and do your best with water or
white wine to obtain good concentrated tasty gravy. Put all the gravy obtained in your wine sauce and now make the correction of salt and pepper. Add also the blood obtained from the cutting mat again in the wine sauce ... NB: The sauce must be obtained in good quantity for the following reasons: 1stly it is good and guests will use a lot with what they eat. Then a leg of wild boar is rarely entirely eaten during a dinner. When the dinner is finished, you must cut all the meat in thin slices, and you will put everything in what remains of sauce. The next day you just have to reheat this to finish your cuissot. You can serve along, celery puree, or sautéed chestnuts or chestnut puree, or even simply rice or boiled potatoes or mashed potatoes.
As advised, we made plenty of sauce, and although we did our best to eat it all, there is enough left over for our meal tonight. We'll have it with more mashed potato, I think, as the sauce needs something to mop it up!

I am very tempted to ask my student-the-hunter if I can buy some more boar from him, as we enjoyed it so much! (and hopefully, he'll give it to me for free, as he seems to have more than he knows what to do with!)
While we are going to be still enjoying delicious food up till January 2nd, I know that I have to go back on the healthy eating bandwagon soon. I went to see the rheumatologist on Christmas Eve who has confirmed that I have arthritis quite badly in one knee and the beginnings of it in the other. He has advised that I lose weight and take up Vélo d'appartement - exercise bike - Mr FD is delighted as he has been nagging me to do this for ages!! We don't have an exercise bike, but my road bike can be put up onto rollers and used in the same way: the trouble is, the downstairs room is so cold that one feels disinclined to go down there, even all bundled up. I just have to do it, I suppose!
I have gathered, collated and organised menu plans, recipes and low calorie tasty treats for the month of January (starting on 6th, when I go back to work and Mr FD starts back at college) and I'm going to stop buying biscuits and start making cakes/muffins/biskits, of which I will be allowed one a day, and none on fast days. If Mr FD wants such things, he'll have to buy them himself & keep them in the car!!!
While being on the 5:2 did work to a certain extent - I lost about 8 kg since I started - our non-fasting days were getting too self indulgent again, which meant that the good done on two days was all unravelled on the other days. My plans have been gathered from the 5:2 recipe book, the Hairy Dieters and from the internet, so I hope I can manage to keep to them...