Menu Plans for this week
But first a Big Fat Dormouse WELCOME to new followers
Kathy
and
Cottage Dreaming
(do you have a name, or shall I just call you Cottage?!) I hope you enjoy your visits to Fat Dormouse. You can also pop over to my other blog, at
The Teapot
, whenever you wish!!
Here are our menu plans for this week:
SUNDAY
(yesterday)
We had the Michael Barry duck dish that I blogged about a couple of posts ago. It was okay, but it definitely had a 1980s feel about it! A little bit too sweet, I think it needed some onions in the mix and maybe a bit less orange flavour. The cornflour also made the sauce a bit "claggy" - but it was quite fun revisiting a past favourite!
Fasting
We're having a 5:2 chicken and spinach curry for dinner. I haven't done too well fasting today - I was gagging for a drink during my lesson today and there was no water available, only canned drinks in a machine. I had a Schweppes "Agrumes" (citrus flavours) but it was 94 calories in the can. With my morning egg, my apple & banana I'm fairly high up already in the 500 calorie count. I think I'll just coun this as a "low calorie" day, and not worry too much about hitting 500 caories only.
TUESDAY
Squash with red bean sauce
(not quite the recipe, but near enough!) I think we might have this cooked as enchilladas, with avocado and yoghurt plopped on top.
WEDNESDAY
I'm not sure if we've got capers...but we can always throw in olives instead. This is Mr FD's cooking turn as I won't get home till gone 7 pm tonight. It's a relatively easy dish.
THURSDAY
(fasting)
Pork steaks with piri-piri coleslaw.
(Just regular coleslaw with a bit of piri-piri sauce thrown in!)
FRIDAY:
Potato pie, sausages and beans.
Potato pie is a not-very-good-for-you Auvergnat dish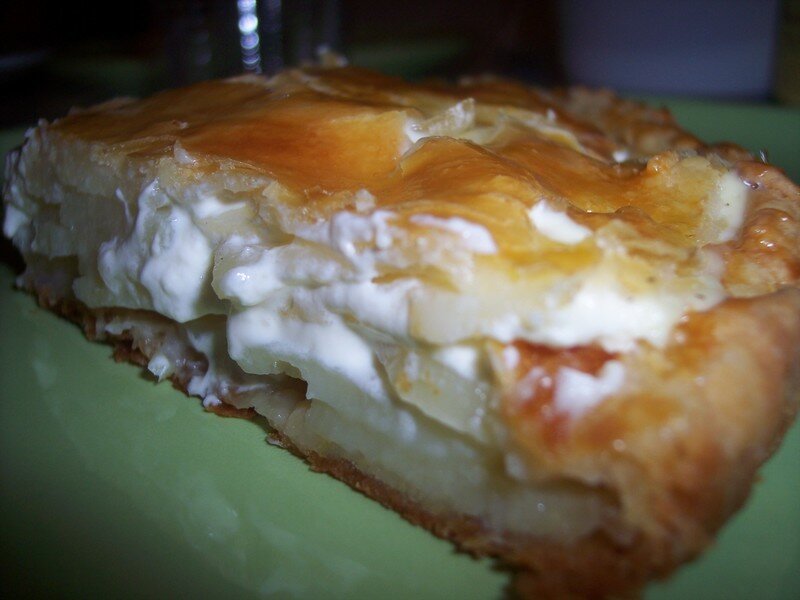 Potatoes in a creamy sauce, encased in puff pastry. The butchers about 6 km from here makes these. They are lush!! I'm going over there on Thursday afternoon (no lessons!) to buy the Christmas santons for my friends' Christmas presents. I have to pass the butchers. It would be rude not to pop in to buy a potato pie, wouldn't it?!
Mr FD will be popping this in our (new from Lidl!) mini oven to warm up with the sausages and baked beans. Real stodgey comfort food!! I'm drooling already (partlybecause I'm fasting today!!)
SATURDAY
Don't know. Something with the left over potato pie (if there IS any left over!!!). Maybe cold meat and salad? Or perhaps a raclette. I don't know.
******
I know I keep promising to respond to comments - and I will, honestly!!!- but I've got a lesson in 15 minutes and I need to prepare.
Maybe tomorrow I'll just do an answer your comments post!!