Festive Food
I'm sorry I haven't blogged here for a while - I have been quite busy with work, and on Sunday, which is my usual blogging day, I was helping on a stall at a Christmas Market all day. It was the Artisans stall (craft work) and they didn't sell much. I, on the other hand, made 30€ with my "free" bookmarks.
These are free - if people don't give me money, it's fine - but often people will throw a few coins, or a euro piece into my little bowl. The kids come over in droves, once they realise that they are free, and get one for their mum...their brother...their teacher...their granny... Sometimes I have to bite back the "What - another one?!" comment, but, as I said they were free, then free they must be. After all, the card was rescued from the recycling bin at Michelin, and the stickers were 50 cents for 3 sheets in Noz, and I haven't had to pay for my table, so really I can't complain. And it does give the kids extraordinary pleasure!
Anyway, I have now planned our festive menus for next week, so I thought I would share them with you...
My Christmas cooking starts today, as Mr FD has asked me to make some flapjacks for him to take into his computer course tomorrow. They are having a Christmas lunch together, & we thought flapjacks were traditionally English. I have some ready made pastry, so IF I can be bothered (a big if there!) I might make some mince pies too. I think we'll have quiche and baked potatoes and salad for dinner, so the oven will be on. I might as well make the most of it!
Over the weekend I will be marzipanning and icing the Christmas cakes (marzipan on Friday evening, time to dry out a bit, icing on Sunday). I've been looking for kitsch decorations, but didn't find any, so I've got sugar stars and edible gold and silver sprinkles instead. They should be pretty!
I will also be making our Christmas terrine over the weekend. I've chosen a
duck and pork terrine with cranberries and pistachios
from the BBC site
This will be eaten at lunchtimes/ light suppers with
parsnip-and-apple soup
, and some delicious cheeses. We are going to go to the Market in Roanne on Monday (23rd) to buy our cheeses, and other goodies
Source: http://www.leprogres.fr/loire/2011/07/20/roanne-table-ouverte-remet-le-couvert-pour-une-9-e-edition-1
and then we're going to have lunch with Mij and Bill, at their home. I may take some more of the delicious cakes that I spoke about
over here.
They were expensive, but... it's Christmas!!
So, our menus look like this:
MONDAY 23rd:
Lunch with Mij and Bill / terrine & soup
TUESDAY 24th
: scrambled egg & smoked salmon for lunch - light but a treat!
In the evening, Corinne and her daughter Josie are coming for dinner. Otherwise they would have been alone and Christmas Eve is quite a big deal in France. Corinne's dad is quite ill (early onset dementia + other more physically debilitating illnesses) so he isn't up to all-night family celebrations. Instead they plan a family lunch on Christmas Day, so we've invited them to us on Christmas Eve.
We're having: pumpkin & chilli soup to start, followed by beef stroganoff, rice and green beans. I have a special wild rice mixture that I got in Noz, so we'll have that. Then cheese, and then Mr FD's Pannetone Pudding. He usually makes it for Christmas Day and then we are too full to enjoy it, so we're having it on Christmas Eve instead. Well, I say it's Mr FD's Pannetone Pudding, but here's the
recipe
. It's just that he always makes it!
WEDNESDAY 25th
: Following our usual one-meal-through-the-day tradition, we'll start with a brioche breakfast. Later on,
smoked salmon paté,
toasts and fizzies. The paté is a bit of a break from tradition - usually we just have slices of smoked salmon - but why not kick against the traces once in a while?!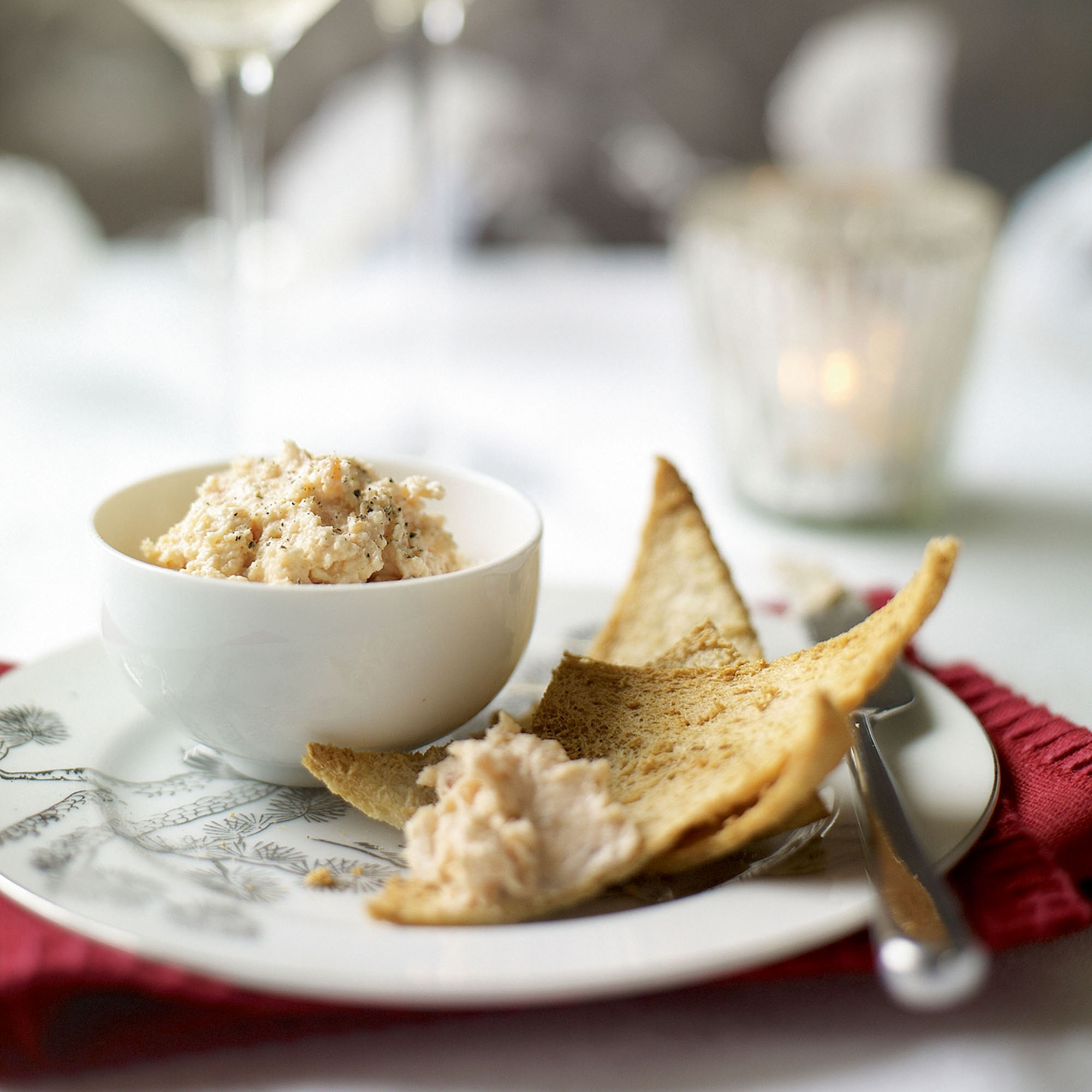 Then, maybe after a walk, we'll move on to the foie gras, with a sweeter wine. This has special little brioche (or sweet spice cake)-type toasts to have with it, plus onion marmalade and/or fig chutney. I've already bought the two condiments and the foie gras; just the toasts to buy
The piece-de-resistance is the filet mignon of wild boar. Served about 4 pm, we're having this cooked simply with an armagnac/wine reduction, green beans, goose-fat-roasted potatoes and roast squash.
And through the evening we'll nibble on cheese, christmas cake and chocolates.
THURSDAY 26th
: Friends are having a drinks-and-nibbles party - of course, there will be vast numbers of nibbles, so we'll eat well. I'll probably take some of the smoked salmon paté on toast, some foie gras and some frozen appetizers from Lidl.
For the other meal, we'll have soup, terrine, cheese and salad (MUST get some fresh veg in somehow!!)
I will need to start marinading the haunch of wild boar (two days resting in a marinate of 2 bottles of red wine & some veggies and garlic) for Saturday.
FRIDAY 27th:
So far, there's no visits planned anywhere, so this may be the day for a walk/ cycle ride - if the weather's good. If not, it may be the day to stay at home reading and watching TV!!
But we'll still eat well! A simple light meal, as the others, eating up the left overs.
And for the other meal:
Brie en Croute
- oh, my! This sounds delicious but...!! I'm going to adapt this recipe, omitting the sugar and making two small, individual portions, rather than using an entire Brie. Then
baked salmon with a pistachio crust
, potatoes and veg, followed by fruit and Christmas cake
SATURDAY 28th: Alison, Gerome and the kids are coming for either dinner or lunch - not sure which yet. We're going to have: a big salad with preserved duck, comté cheese and croutons, followed by the haunch of boar, served with a gratin dauphinoise, carrots and green beans, plus some sausages, just in case the kids don't like the boar. There is likely to be a lot of boar left over, so this will be sliced and frozen with some of its gravy, as well as being used up over the next couple of days...This may be our version of the Christmas turkey that hangs around a bit too long and outstays its welcome!!
Cheese and then a child friendly (= without the alcohol!)
chocolate fondue
for dessert - with bananas, apple, grapes, marshmallows and madeleines to dip in!
That's as far as I've planned, but I'm guessing boar might feature heavily in the coming few days!!
There are Christmas poems over at
the Teapot,
as part of the Pause in Advent series. I have two great poems planned, one for the last Sunday in Advent, and one, that is heart wrenchingly beautiful, for Christmas Eve. I hope I remember to post it! I've got an appointment with an arthritis specialist on 24th about my knees, so with that, plus cooking for Corinne I might be pressed - but I really want to share it with you!!
I must dash! I've got a phone lesson in 5 minutes!
Have a lovely Christmas, whatever you're eating! (This post makes me sound really greedy, doesn't it?!)