Using up the freezer stuff
Source
The Collège next door has lost several roof tiles, the Hotel next door lost a chimney and all the TV aerials that were attached, and one house further into the village appears to have lost most of its roof tiles. Mr FD and I wandered down to Shopi to see if there was any power there (I needed my morning doseof caffeine!) There wasn't, which meant that Gilles was struggling with a recalcitrant generator in order to keep his freezers of food going. We spent a long time moving frozen goods from the freezers that weren't connected to those that were - hopefully we'll have saved a lot of the food. If not, Gilles will have a big insurance claim to make!
Our new fridge freezer has a 16 hour "autonomy" so we're hoping that nothing has been lost. We haven't opened it since the power went off, then on, then off then on again. So we're guessing it should be fine. I'm planning on utilising our freezer stocks this week.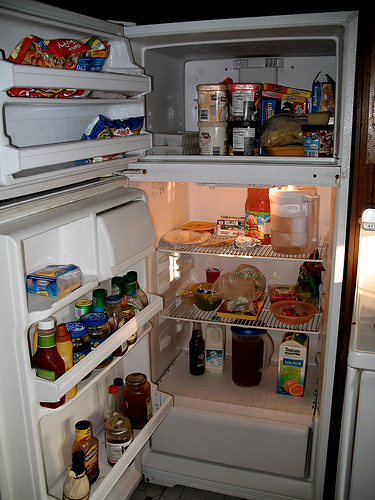 This isn't our fridge freezer, as we have a bigger freezer part, but it does as an illustration. As I'm using up a lot of stuff from the freezer and store cupboard this week, hopefully it'll just be the fresh goods I need to buy.

SUNDAY:

We had a surprise invitation to Gille's girlfriend's, so we ate there at lunchtime. We had asaparagus and fish terrine, followed by chicken in a cream sauce and then chocolate eclairs (rescued from the Shopi freezers) and sorbet. As we'd spent the morning helping Gilles , we were ready for a big meal. Tonight I'll make some carrot-and-ginger soup (recipe earlier on. I'm pleased to see that

Nancy

enjoyed the soup! ) and I have some rolls I can bake. The boulangerie was shut this morning, not because there was no bread (although subsequently we discovered there wasn't) but because they couldn't raise the electric security blinds!

Source: Nancy's blog. It's her cup of soup!

MONDAY:

I made a casserole on Saturday to eat on Sunday. But we'll have it today. I don't know what it will be like, as I forgot to defrost the meat, so when I came to cook it, the meat was still in the freezer. "Never mind," I thought, "Ten minutes on 'defrost' in the microwave and it'll be fine" But I pressed the buttons wrongly and it had 10 minutes on "high" so it was quite well cooked when I realised!!! So it may be really, really tough when we have it in the casserole.

Nous verrons!

To be eaten with mashed potato and green beans

. TUESDAY:

I'd planned on meat pasties, made at the same time as the casserole, with casserole meat. But there wasn't enough. So I made a vegetable-bacon mix to go in these. I made pastry for the first time in many, many years, using my new food processor. I forgot the salt, so the pastry is a bit bland, but I think it'll be okay. We'll have these warmed through with some oven chips and maybe some broccoli.

WEDNESDAY:

we'll have the

Pasta Putanesca

that we didn't have last week. I've got all the ingredients in the cupboard already. As I said last time, I might make some garlic bread to have with this.

this site

where a French person raves over garlic bread. That may seem strange to many Britishers, who imagine that garlic bread is a French invention. It uses a baguette, and garlic? Bof! It must be French! But in fact, it is unknown in France. I remember when we were cycling our charity ride from Amiens to Colmar (800 km in 3 days) (done relay style) we arrived in Colmar, and were sitting outside a bar drinking much needed and very welcome beers. Some fellow riders arrived, and demanded garlic bread from the café owner.

"It's French! You must have it!" they cried. "Pain de garlique!?"

"Quoi?"

"Garlique. Pain avec garlique!" There was much confusion, until the Flamenkuch I'd ordered for our little snack before a four-course-dinner arrived.

source

The waiter departed thankfully, shaking his head over what was meant by "pain de garlique". He wouldn't've recognised

Pain à l'ail

either

THURSDAY:

I've got two sea trout fillets in the freezer, so I'll make

this

salmon (but with trout) noodly dish. We like it lots and it's easy to prepare.

FRIDAY:

Last week, I cooked some faggoty meatbally kind of dish to go in the freezer. I think we'll have that on Friday with mashed potato and some vegetable...possibly braised leeks, as I'll be buying them for yesterday's fish.

SATURDAY:

When in Lidl last week, I saw some pork ribs at 30% off. It's not something I've ever cooked, but

this recipe

looks quite easy. A lot of recipes include "barbecue sauce" in the ingredients, but that's not something one finds easily in France, so this recipe uses ingredients I can find (altho I'll use tomato purée in place of the ketchup) Served with rice and salad. Or maybe rice-and-peas.

Oh goodness me! No updates!! I am sorry. Let me see...

Casserole was fine, though the meat was a bit chewy, as expected. Very tasty though.

My pastry on the "pies" was a bit thick & chewy - I've not made pastry for so long - but generally fine.

Wednesday saw no garlic bread, as Mr FD was in charge of making the sauce. Very nice it was too!

Thursday, I went "off piste" with the recipe, using a noodle mix that I'd bought cheap. It wasn't a great success.

Friday's faggots were yummy. I was very pleased with them. I'll be making them again. As I heated them in the oven, we had them with oven chippy-type thingies, so I wasn't wasting the heat.

Saturday - I went "off piste" again with the ribs. Mine weren't quite ribs anyway, so I cooked them as the recipe (but with tons of sweet chilli sauce added to the liquid) & cooked for about 25 minutes. Then I removed them from the liquid and reduced it a bit more. Then I grilled them with the cooking sauce as a marinade, until they were crispy. We had them with rostis from the freezer and salad.

I also made an asparagus and ham quiche (more home made pastry!)

which we had for Saturday lunch with baked beans

...

we've had a new supply of Branston baked beans delivered via Richard who was over in the UK to watch Swindon Town FC romp to a 5-something victory. I think we have some more waiting for collection at Mij & Bill's. Still, you can't have too many tins of beans, I say.

Huzzah for Branston Baked Beans!