Normal Service has been resumed
Hello dear Peeps!
Thank you for all your sympathy and comments on my bad back. Thanks to the doctor prescribing stronger pain relief our trip to the south was fine. He prescribed boith muscle relaxants and pain killers, so I felt better quickly. I was able to take our friend's dog, Marvin, out for a walk on Wednesday, Thursday & Friday - they were away in the UK, so we were on dog-sitting duties.
I won't tell you about our trip just yet. It will be saved for either this blog or the Teapot at another time.
This is to get back to our menus for the week! Because of being involved in 40 Acts, and trying to blog about that on a regular basis, I rather neglected this blog. But I am back, and will at least try to post the menus every week, in the hope it may inspire others who may be short of ideas for dinners. Our breakfasts are always cereal or toast - I have a meusli-nut-and-dried-cranberry mix if I'm working (it keeps me going till lunch) or two-slices-of-toast-&-marmlade if I'm at home (I might just need a snackette during the morning)
Lunch is usually bread-and-cheese, or bread-and-meat - although today it's bacon sandwiches!! Friend Cathy has arrived for her 6 month stint over here, bringing us cheddar cheese and bacon. We celebrated her arrival rather too well on Thursday evening!
Trans: Pleasure does not know how to set limits.
So, the plans for this week's dinners are:
TODAY: Merguez sausages, jacket potato, coleslaw and salad.
SUNDAY: Roast chicken dinner, with green beans & carrots. Stuffing will be made. I might even go for bread sauce too.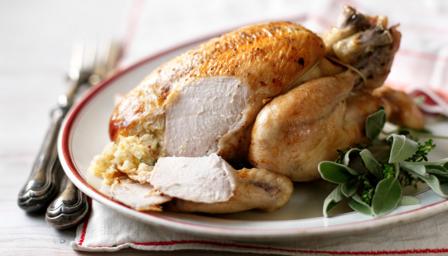 MONDAY: Cold chicken with soufflès in a tomato sauce. Green beans.
TUESDAY: Chicken & vegetable risotto.
WEDNESDAY: Pasta bake, with any remaining chicken, veggies, and lardons.
THURSDAY: HM Pasties, with baked beans.
FRIDAY: White fish with a salsa verde topping, wedges, veggies.
Thank you so much for all the lovely comments. I know I haven't replied very assiduously, for which I apologise, but I appreciate them all.
So, normal service is being resumed...
Next Monday (the day after tomorrow) is a Bank holiday, and it's also a bank holiday the following Monday, so I will have some time to catch up on various things. Mind you, I'm preaching next Sunday so I have to start thinking about that - in fact, as I have work all next week, I'd actually like to get the sermon written. I could wait till next Saturday, but I've had too many skin-of-the-teeth sermon writing experiences in the past to want to do that. If I don't have to, I'd rather avoid it!
So far, the Terrible Paperwork hasn't been re-returned with snarky comments from the government department, and it's been over a week. It's looking hopeful!!
Anyway - Mr FD has already cooked his bacon sandwich lunch (as he's going out cycling) and the aroma is wafting upstairs and tempting me to my lunch. See you laters!!