No cats...but a giraffe was seen!
We went to Lyon yesterday. Friend Cathy was meeting her friend Shiela from the train, and wasn't sure of the way. We love Lyon, and are always happy for an excuse to visit, and go to a restaurant (!) So we drove over, and showed Friend Cathy the best place to park etc for when she takes Shiela back to the train.
We arrived at 4.30, and took the metro to Part-Dieu station, so Cathy knew the way, and then (because I'd been hankering after it) decided to go to the
Cat Café
,
We hopped on the right bus, but by then it was 5.30 and the streets were getting very busy. Despite the Bus lanes, the bus was taking forever, and we had to be back at Part Dieu to meet Shiela at 7.00, so (slightly reluctantly on my part) we got off the bus at the gates to La Parc de Tete d'Or instead.
This is a beautiful, huge park in the centre of Lyon, and we had ended up at a part of it that we didn't know. We just wandered a little, enjoying the balmy (but slightly drizzly) weather, and admiring the deer that were there. And then were very surprised to see a giraffe grazing the treetops! There was a small zoo there - free of charge. So we watched said giraffe, flamingoes and pelicans, various small marsupials, and parakeets. We admired some baby monkies, and fleetingly saw a lioness strolling nonchalantly through the undergrowth. I am not a keen supporter of zoos, but this seemed a reasonable one. It certainly passed the time before we needed to be back at the station.
We met Shiela, and took the metro back to the Park-and-Ride where we'd left the car. Then a quick 7 minute walk to the restaurant. It is one of a chain of brasseries in the Lyon area, run by Paul Bocuse (about the equivalent level as lovely Michel Roux junior in the UK) and we almost always go to one when we go to Lyon for a meal. This one was
L'Ouest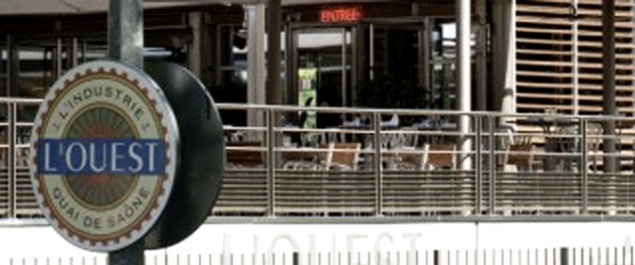 I had rather yummy chicken and coconut samosas, followed by some delicious beef, with a shallot saucer and creamed potato. Then profiteroles, and a coffee. Mr FD had paté en croute, with beef. Cathy had the samosas and then loin of pollock with fennel and preserved lemon, while Shiela chose a fresh vegetable bruschetta, followed by the fish. With three of us having profiteroles, and with apèros, coffees and a "pot" of wine, it was just under £30 each. Not cheap, but certainly not too expensive for a lovely meal that I couldn't have cooked so well at home.
Mr FD kindly drove us the hour back home, while the rest of us snoozed or sang along to Divine Comedy on the CD player.
Even though I didn't get to the Cat Café, it was still a lovely afternoon & evening in Lyon.