Conference in Munich
Hello dear Peeps!
I am back from my weekend in Munich. It was a very interesting conference, looking at the Myers-Briggs personality indicators, and how this affects one's spirituality. The speaker, Denise Crenshaw, from the University of Michigan, was engaging and really interesting.
The time was spent in a beautiful conference centre, Schloss Furstenried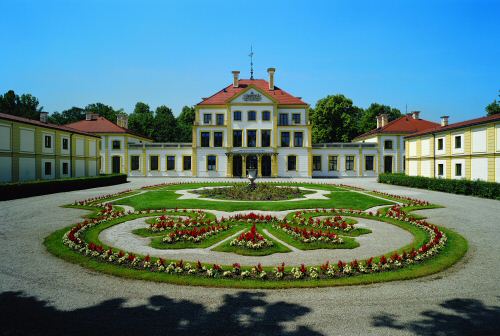 But, oh dear! The food!! It was resolutely Germanic!
FRIDAY EVENING: We had a bit of salad provided (if you were quick!), a very stodgey rice & cheese thing, mushroom sauce and enormous bread dumplings - about the size of a tennis ball! Dessert was fruit, I think.
SATURDAY LUNCH: A clear soup with mini bread dumplings, a slab of some kind of pressed pork, rather sticky spatzel with spinach (a type of noodle) and celeriac, followed by a yoghurt-and-raspberry dessert.
Coffee and cake on Saturday afternoon was delicious - I had a lemon drizzle-type cake, but there was a tiramisu-black forrest combo, or a chocolate/vanilla marble cake to choose from. Very good.
SATURDAY DINNER: Salad to start (mostly green stuff, or sliced bread dumplings in sauce!), a rather rubbery quiche, or sausage, with some well cooked potatoes. Fruit for dessert.
We left before Sunday lunch - that may have been the piéce de résistance but somehow I think not!
But everyone was very helpful and pleasant - the sisters who run the centre, and all the staff too. I hated feeling unable to communicate, as none of them spoke English! Luckily, there were several people at the conference who spoke both English & German, so they were able to help when necessary.
I need to spend some time processing what we did and learned at the Conference, but - should you be interested - I came out as a
INFP personality type
(this a really quite frighteningly accurate description!). When we looked at Spiritual gifts, I scored quite highly on "Mercy" (as well as on Teaching and Encouragement) I think I need to ponder quite what this means, both in general, and for me in particular.
I meant to do that this afternoon, but somehow time (and the things I had to do) ran away with me and I didn't have time. Never mind, it's a Bank Holiday on Thursday (Ascencion Day) and I only have one student on Friday so I'll have time then. I need to make a White chocolate & ginger cheesecake to take to a friends for dinner on Thursday night but that's all. But I do want to start on another zentangle, using a red squirrel as inspiration. I'm also working on Kezzie's suggestion of a TARDIS zentangle too. So lots of things to keep me busy!!
To finish with, during the conference we were put into our "personality type" groups, and asked to write a prayer, encompassing the themes of the weekend. It was really interesting seeing the different types of prayers that were produced, but here is the one that my "NF" (iNtuitive Feelers) group produced
Dear Lord,
Who knows and understands all things,
Who became incarnate to understand our humanity,
Who created us as unique and marvelous beings,
Who loves us as we are:
You have called us to grow as leaders to manifest your love in our congregations, in our communities, in the world in which we live.
We come before you to ask that you open our ears and hearts to hear and discern your will, and that you fill us with such grace that we may go forth to apply the ideas and knowledge of this weekend to our lives and to inspire the communities into which you have placed us
In the name of Christ our Lord, who is an ever present beacon.
Amen