Evenings out...evenings in...
Hello again, dear Peeps.
I am SO sorry that my blogging has been reduced to once a week at the moment - I am practically working full time at the moment (which wasn't the plan!) and I've forgotten how all-consuming that can be!! I know there are many of you who do work fulltime who are probably rolling your eyes at this, and thinking I'm being all pathetic-and-poor-me. I know! I'm just saying I'd forgotten!!
I had a nice evening yesterday. I met Caireen, the wife of my rector (who is in Canada admiring his first grandchild) and we went to the Christmas market in Clermont. After a wander round we went to a traditional Auvergnat restaurant for dinner. I had the Assiette Degustation (tasting plate) which was tartiflette (diced potatoes cooked with cheese), aligot (mashed potatoes with cheese), auvergnat sausage, charcuterie and a green salad. Rather too much potato, cheese and meat - but delicious!
At the Christmas Market I bought myself an electric hot water bottle - you plug it in, and after about 10 minutes it is toasty warm.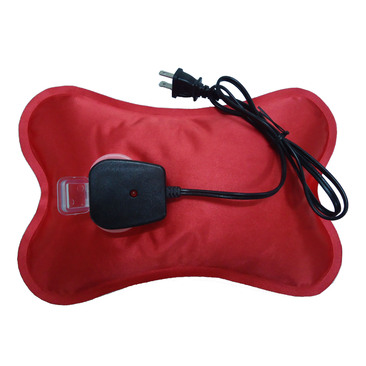 Perfect! In winter I really need a HWB on my back in the car: it helps relieve pain. Fine in the morning, but coming home the HWB has become a cold water bottle as there's rarely a convenient kettle. So now I can plug in my bottle in wherever I'm teaching to have heat on my return journey too. Huzzah!
I also bought a few bags of nibbly things for Christmas feasting!
It's hard to believe it's only a matter of three weeks before Christmas! I'm nowhere near ready, although I have made the Christmas cake. It will need marzipanning and icing, but at least it's made. I must remember to "feed" it.
I managed to post off my three Christmas swaps today, but still have my Ship of Fools Secret Santa to wrap up and send, plus a couple of family presents. I went a bit b'zongo in Hotel Chocolat on Thursday (15% discount!), and sent quite a lot of chocolate to various people...
My MiL arrives in two weeks. Eeep. I really need to sort out the tip that is the spare bedroom. At least I'm not working on Fridays now, so there's a couple of free days that I must NOT use sat in front of the computer wasting time!
I didn't think I'd have much time today, as I'm leading the service & preaching tomorrow (as Rob is in Canada) but a recycled (but updated) sermon and a quick planning-for-next-week session means that this afternoon is mine to use as I wish...tidying my study, making fat balls for birds, packing more socks for refugees and wrapping some presents are some of the things on my list. Then tomorrow (Advent 2) means I can break out the Christmas Music (Rend Campfire Christmas!!!) and put up the decorations.
So what has food been like this week? Good, generally! Mr FD has been ion charge of cooking and has done a great job. We had Nigel Slater's Chicken in Cider one day (leftovers today) and a very tasty lemony pork wrap on another day.
This week is looking as follows:
TODAY: left over chicken with soufflés

SUNDAY: Duck confit (more duck fat for birds!), ducky potatoes and green salad.
TUESDAY: Spicy lamb steaks, vegetable, potato wedges. Basically lamb steaks with an oniony-tomatoey-red peppery sauce + a bit of chilli thrown in. Easy-peasy!
THURSDAY: Rouelle de porc au miel (recipe in French) This is a slow cooker recipe - well, it's not, but it's going to be, if you get my drift! Served wioth pasta when we get home from shopping/teaching on Thursday evening. It's a bit of a treat to have a pork joint midweek, but it's going to serve AT LEAST 2 meals and hopefully even three.
FRIDAY: Cold pork, chips and beans.
SATURDAY:Chorizo (or pork!), potato & spinach bake
Thank you, as always for your comments on my blog. It's always lovely to hear from you!
MAGS (who trains Twiglet the guide dog puppy!) - thank you for your comment. I love reading about Twiglet and you take lovely photos of her too.
POMPOM: It was good to "have coffee" with you last week. Let's do it again sometime!!
F

ISHCAKE RANDOM - thank you! I did (as you will have seen) have a lovely evening yesterday just for myself, leaving Mr FD at home to have his free pizza from the Van. (He helped Natasha-the-Pizza-Lady with her computer, so the pizza is part-paym

ent!)
SANDRA at Thistlecove Farm told me about her sock giving to the Salvation Army. Mine are going to Socks for Refugees. Where are yours going?!
If you have odd socks for refugees they are also welcome here
So there we are...I'll just post tomorrow's sermon at The Teapot, if you're interested. Maybe I'll get to post during the week...or maybe I won't!