Dinner out - yummy, yummy!
Ooh, look! I have another Follower. A big fat Dormouse welcome to Joy from
All Made Up
, where she blogs about her make-up and beauty finds. If you're into using make up then pop over to visit her, as she has lots of reviews and advice. I'm not really into make up, much to my friend Carlo's regret ("You look so lovely when you're made up!") - I am too lazy to bother with the faff of it all!
We had a lovely meal for Mr FD's birthday - thank you for the birthday greetings - unfortunately there was no cake provided, but we had a delicious salmon and salad starter, with a pesto dressing. There were crunchy grains of salt in the dressing and the salmon was thinly sliced and beautifully moist.
Source: alldayidreamaboutfood.com
Then we had jarret de veau (veal shank) with green beans and tiny fried potatoes - again delicious! Jean-Luc, the chef, had expected two of us, and was a bit put off his stride when our friend Corinne arrived too - would there be enough meat? We assured him that he could divide it between three and we were sure it would be sufficient - and so it was.
It didn't quite look like this - it was a little "fresher" with the beans - but this is similar.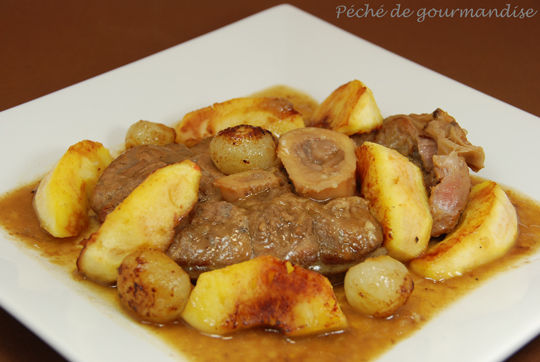 Source: pechedegourmand.canalblog.com
Cheese followed - I just had a morsel of St Felicien and a sliver of fresh goats cheese - and then dessert. Corinne and Mr FD chose warm chocolate brownie with toffee sauce, while I had exotic fruit salad with lemon sorbet. Traudel, the chef's wife and proprietor of the restaurant, then brought us a bottle of champagne for us as a celebration of Mr FD's birthday, so we shared that with her (Jean Luc had already left in order to put the chickens to bed and feed the dogs!) They are friends as well as the owners of the restaurant.
Today I have been fasting - I have had a pear, a small bowl of soup and a crispbread so far today. We're having sea bass fillets with caramelised onions, green beans and a few new potatoes for supper. I am definitely looking forward to it!