Food, Films and (new) Followers
The week has rolled by once more - and I had meant to write a post mid-week, but never quite got round to it! Sorry, folks. Never mind, I can't imagine everyone was exactly waiting with bated breath, so I won't worry too much!
I think yesterday's
Pan Haggerty
was the star of last week's food - it was a very basic sort of dish, but really enjoyable. I added about a quarter of a small head of cabbage into the mix, which worked, and we had the Pan Haggerty with a tin of baked beans. It's certainly a dish I'll be making again.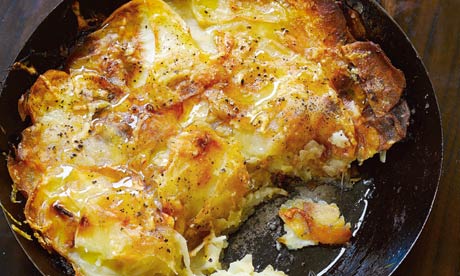 I see that I have a couple more followers - a lovely thing indeed.
So, a
Big
Fat
Dormouse
Welcome
to
Chane from Odd One Out. Chane sent me some lovely, lovely things for a Secret Santa. They arrived much later than Christmas, but were brilliant for cheering me up mid-January. She is a really talented sewer/creator of fab accessories. Check out her blog!
Janina Lynet from three Spanish (I think!) blogs. Including this one where she showcases perfumes. If your Spanish is good, then do see what she's recommending!
I hope you find useful snippets here.
So, what do the menu plans look like this week?
TODAY
(meat)
Hairy Dieter's Crispy pork schnitzel with potato salad and other salads
This
is the original Hairy Bikers' recipe which has been "re written" for the Dieters
among us...there is no parmesan or egg in the crumb coating, but rather natural yoghurt to help the breadcrumbs stick to the pork. The schnitzels are misted with spray oil and baked instead of fried. The potato salad has red onion, celery and apple (though I may add a few cornichons too!) and is made with 2 tbsp light mayo and 2 tbsp natural yoghurt (low fat) instead of the creme fraiche and ordinary mayo. I think it's a good example of how "normal" recipes can be reasonably easily remodelled to cut out a lot of excess fat, without losing out on taste - which, in my opinion, is what the Hairy Dieters do well.
MONDAY
(

semi fasting

- vegetarian

)
Hairy Dieters'
Leek and Mushroom risotto
(Theirs has chicken in, making it 317 calories per portion. I'm replacing the chicken with leeks, so I guess the calorie count may go down a little with that)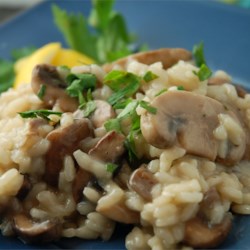 TUESDAY
(fish)
excapt we're having pollock, as there was no haddock in Carrefour (églefin, in French, in case you're interested) We'll have this with a baked potato and salad.
WEDNESDAY
(meat-ish)
Mr FD's cooking day - we're hving
Healthy Pasta Carbonara
In order to get some veggies into the meal, I'll get Mr FD to add a couple of leeks to the mixture. That will bulk it out and give us one of our five-a-day.
THURSDAY
(meat)
Nothing except some veggie soup, and lots of drinks, all day. Then in the evening, we'll have
Chicken with
celeriac cakes
- this link is to an earlier post where I gave the recipe foer the celeriac cakes. I'll roast the chicken, and we'll have a sauce made with cider. It's not exactly low calorie, but it's not exactly high either - just over 300 calories the lot.
FRIDAY
(veggie)
Vegetarian lasagne.
Similar to this, but I'll cheat by using a can of ratatouille, and frozen spinach. It won't be so big either - only serving 4 (and I'll put half in the freezer).
SATURDAY
I don't know - it's 1st March and I haven't planned March's menus yet. Watch this space!
What else have I been up to this week?
Well, I spent yesterday preparing a few parcels...I have my two Grow Your Blog giveaways to send. The one from The View is ready to go, but Accroquilt, I'm afraid you will have to wait a little longer for yours, as I have to print the notecards. I also am taking part in a "Share Your Country" swop, organised by Kimberley at Creative Chaos. She kindly let me join in, even though I was late signing up. I am going to post about that over on the

NEW!

IMPROVED! View From the Teapot site. Please do start visiting me over there too.
I made a delicious smelling soup this morning:
Sweat 1 leek and 1 onion, plus 1 clove of garlic in 1 tbsp oil. Add 3 chopped parsnips and 3 chopped carrots. Add 1 big splotch of curry paste, 200 ml coconut milk, and 600 ml vegetable stock. Season to taste. Simmer till vegetables are soft. Zuzz until smooth. Add more water if it seems very thick.
I went for a walk yesterday - about 3 km: not far, but I've had tendonitis in one foot, so with that and my arthritic knees, I've not been getting out much. (Plus the fact I'm a lazy so-and-so!!) My foot made a few complaints, but it feels okay this morning.
I've put on 400g this week - not a lot (and I got weighed wearing knickers and socks, instead of nothing-but-my-glasses, as usual! They must account for at least 200g!!) but I have been aware that I've been slipping a little bit...an extra bickie here ("but it's only 50 calories!") another slice of bread for my lunch ("but I've made too much egg mayo for just one sandwich!"), and not so much fruit as snacks as chocklit! So - slightly more rigorous this week, please, and I think I can walk to the Chambre de Metiers tomorrow! I took the car last week, because of my tendonitis, but I think it's okay enough to walk tomorrow, which means that's about 3 km in all. I'm still in the next decade down, but I don't want the weight to be going UP...I want it to be going down!
Angela and Jo -
I'm not sure you
would
be an emotional wreck after "Philomena"...I cry easily and though I did shed the odd tear, I wasn't too bad! I think that the Catholic church, as an establishment, isn't shown in a good light, but individual Christians - Philomena, herself, for example - are shown as normal, broken but ultimately Christian people! (If that makes sense!!)
I'm glad that
Keith
also enjoyed the film. We are lucky to be reasonably near Roanne where VO films are shown quite frequently and Mr FD keeps a sharp eye on various websites to see what's coming.
He is an avid listener of the
Mayo and Kermode film review show
on Radio 5 Live, so he always knows what is coming up soon, and what has been recommended. I must admit I enjoy listening to the podcasts in the car. Mr FD puts them onto CD for me, and even though the actual films being talked about are way out of date, I still really enjoy the discussions.
And I think that's about it! I hope everyone has a good week, full of healthy, delicious food.