Another week's Deliciousness
Hello, hello, Lovely new followers!
Last week I welcomed my 100th Follower (Stalker?!) and now I have 6 more to welcome. How fantastic is that?! I do hope that you all find something that is of interest to you.
So, without further ado, let me give a
Big
Fat
Dormouse
Welcom
e to:
Yesterday my student-who-is-a-hunter (who provided us with our Christmas dinner) gave me another hunk of wild boar. It was frozen, and I knew that I couldn't get it home still frozen, as I had two more lessons and a load of shopping to do. So, although my plan had been to freeze it, I decided to let it defrost, marinade it and cook it, then freeze it in meal-sized portions. When I opened the package there was also the Filet Mignon so that also is being marinaded for our dinner tomorrow. Oh, yummy yummy! I have some Cèpes sauce in the cupboard, so we're going to have a feast tomorrow!
It won't be a low calorie meal, but with careful management during the rest of the day, it shouldn't be too bad. But I don't think a filet mignon of sanglier deserves anything but full enjoyment!
So far, in four weeks, I have lost 3 kg - 6.6 lb. I'm certainly happy with that! I know it won't continue, because this is still my body saying "
Help! Why is the food intake so low?! Emergency...emergency!
" but I think that this way is sustainable. I don't feel particularly deprived, I don't feel worried if I have a little "extra" from time to time, but we are eating sensible, reduced portions of slightly lower calorie food.
Incidentally, I bought these recently:
They aren't at all bad - I bought the Myrtilles ones too, but they're a bit over sweet and jammy, whereas the chocolate ones give a reasonable chocolate hit. At 50 calories for 1 biscuit they're not bad. I find that if I break 1 biscuit in half, I can have one bit, and then save the other for later. And it's like having two not-particularly-tiny chocklit biskits.
Anyway, our menus for this week are as follows...Don't forget you can click on the links to find the recipes, should you wish to do so:
SUNDAY
Aforementioned wild boar, roast potatoes, cabbage, carrots and other delicious things!
MONDAY
(fasting)
Fish from freezer (it's ready prepared, so I can't remember how many calories. Not too bad though), rice and veggies
TUESDAY
Pork skewers with coleslaw, Slimming World chips and salad.
Marinade 300g pork loin (cubed) in a mix of 1 tbsp brown sugar, 1 tbsp tomato ketchup (sweet chilli sauce for us!), 1 tbsp soy sauce, 1/2 tsp Chinese Five-Spice, 1 tbsp orange juice for at least 15 minutes. Thread onto skewers (if you can be bothered!) and grill on "High" for aout 7 minutes, basting with the marinade & turning occasionally, until cooked. Serve with coleslaw
Coleslaw: 1/2 tbsp red wine vinegar, 1 tsp piri-piri sauce, a pinch of sugar, 2-3 tbsp low fay mayo, 1/4 red cabbage (I'll be using Chinese Leaf, as I'll have some left), 1 carrot, grated, and 1 thinly sliced spring onion. Mix it all together.
(300 calories a serving. Serves 2)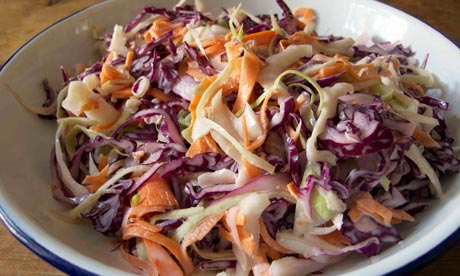 WEDNESDAY
Meatloaf from freezer, baked potatoes & ratatouille. Easy cook for Mr FD who is at college all day, but needs to cook as I don't get home until 7.00.
The meatloaf was a Hairy Dieter's recipe - very tasty - which I cooked a couple of weeks ago.
THURSDAY
(fasting)
Kamchatka!
Huzzah! A favourite diet meal! We'll have it with some chorizo thrown into the mix. Mr FD will probably have a roll with this as well.
Source: http://www.handtomouthblog.com/
FRIDAY
Hairy Dieter's Bean burgers
- not quite the recipe, but almost. With potato wedges, salad and a Grek yoghuert/mango chutney dip. I might make a tomato salsa as well...but no buns!
SATURDAY
My lunches are generally home made soup, 1 slice bread with a 25g serving of protein, radishes/cherry tomatoes, 1 biscuit (not necessarily Special K) and fruit. And this now keeps me going until dinner.
Thank you again for your comments - I love reading them & try to answer each one on the next (or nearly next!) blog post.
ANGELA:
Thank you for the tip about moving my scales. They can stay where they are!! I remembered to weigh myself today, anyway - 500g down from last week. 1 lb a week is fine for me!
MICHELLE:
The fritatta ended up being Thursday's dinner, instead of Monday's, but it was very nice. I roasted the squash before using it, rather than pan-frying it - because I had the oven on to cook chocolate brownies to say thank you to my wild-boar-supplying-student. As a vegetarian I guess you know what we call Kamchatka (and the rest of the world call Chachouka) - I think it's fab!
LORI:
I hope you like the recipes - and "The Red Tent". I found it a fascinating book, & have probably read it two or three times.
JOLUISE:
I'm glad you &
Pompom
liked the cat badges. I think they're great! My cat Bib is sitting watching me type at this very moment. I fear she may be planning a lightening raid on my fingers!!
POMPOM:
STILL no kitty?! My kitties send you special licks-and-purrs to make you feel better.
And here's something you could order on Amazon, if you wish:
Altogether now: Aaaaaaaaaaaaaaaaaaaaaaaaaaaaah!!