You say Hello..
...and I say Goodbye!
Not permanently, you understand, but...
I'm sorry I've been absent for a bit - if anyone noticed! - but we have been without internet/phone access for two weeks. Quite why it took the combined efforts of SFR and FranceTelecom so long to work out why I'm not sure, but there you go. I was rather like a gypsy, toting my (Vera - lovely giveaway from Vicki!) bag full of folders to various friends' houises to take my phone lessons. I used my mobile for some, but I don't have unlimited tarif so it was best to try to blag some phone time off friends. Thank you, Danièle and Charles-and-Angela! We're back on-line now, and I've caught up with my favourite blogs, but I'm leavig for a sojourn in the UK on Tuesday.
Last year, you may remember, I spent 5 weeks teaching in a Summer School in the UK. I found it a
little difficult at times
, it must be said, (as you can also read
here
) but I have been lured back by the money...and the fact that I don't have much work over the summer. And, in hindsight,
it wasn't that bad.
(Actually, I'm not sure about that!)
Knowing a little better what to expect, I've already tried to do a bit of planning, although, due to a new method of working, the Powers-that-Be haven't allocated year groups (so I don't know what age I'll be teaching) or Workshops Leaders (so I don't know what workshop I'll be running...) I'm guessing a bit! Still, I'm taking the car this time (eep. I have to drive across France by myself. First time ever doing a long run single handed!) so I can take a few more resources than I could last time, so I feel better prepared for what might hit me!
One of the resources I'm taking is our popcorn maker!
If I am leading the Gastronomy workshops, I have planned to use it. If I'm taking the Kids' age range (7-10) I'm planning on having a popcorn making session each week - designing & making boxes to put it in, choosing a flavour etc - and if I'm doing neither we can have it in the staff common room!!!

The other slightly irritating thing is that I don't know how long my contract will be for. Last year I knew it was for 5 weeks. This year it mighht be for three...or four...or five weeks. As Mr FD wants to fly over to join me for a bit of a holiday at the end, this is a bit frustrating as he can't really book his flight. But, hey-ho! There it is. It's like that so we have to deal with it.

The 5:2 fasting has been going reasonably well, with some days harder than others. I haven't really been calcumating calories very carefully - using the given number on recipes, but as I've added ingredients, or taken some away, I'm never totally sure if I've stuck to 500 calories on a Fast day. Still, I have lost weight, and can fit into clothes that I couldn't wear before, so there must be something good happening! Whether I can continue it while I'm away - or even will want to! - is another matter! I may try to have a couple of days a week when I just eat raw fruit & vegetables - there is a great salad bar both for lunch and dinner - but equally, I may not have the will power to do that, when faced with fish-and-chips, pizza and other delights! But until I go, the food plans are

TODAY

:

(fasting) coffee, cuppa soup and

Good for you Green Curry

with a small amount of rice
As Yves, a cycling friend, gave Mr FD a huge bag of cherries (at least 2kg) we will probably have cherries too!
SATURDAY:
Merguez sausages, pork brochettes, pasta, tomato-and-courgette sauce.
SUNDAY:
Magret de Canard, salardaise potatoes (cooked in duck fat) and green beans. Mmmm!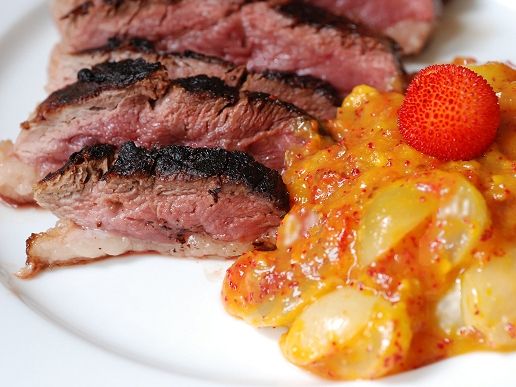 I may make a little plum sauce as we have some plums going wrinkly in the fruitr bowl. I need to stew them today but I can use them + some chutney to make a sauce.

MONDAY

:

Though I'm not sure we'll do a full fast, we'll eat "light" so our main meal will be an old favourite of "

Kamchatka

" - stewed peppers and tomatoes, with eggs. I may pop a couple of potatoes into the mix too.

TUESDAY:

Mr FD is on his own as I'm leaving to drive to Calais. I have a couple of cans of Red Bull to keep me going if I feel sleepy, and I'll take lots of "grazing" food to snack on when I stop the car for a rest every couple of hours or so. I am nervous about the drive - especially going round Paris - but there shouldn't be any major problems.

I'll try to blog from Downe House, but I make no promises!

Have a great summer, everyone!