Hospital Food...
...and other stories
Mr FD disc
o
vered what French hospital food is like, due to an overnight stay this weekend. That's why I'm late posting this. He was out with the Cycle Club on Saturday, and he came off his bike. We're not exactly sure what happened, but it seems a drunk guy on a moped overtook the group, and then cut in too close in front. MrFD slammed on his brakes to avoid the moped, skidded and came over the handlebars. Other cyclists then ploughed into him. He's battered and bruised, with something not quite right with his shoulder, but it's not broken/dislocated. The hospital kept him in overnight for observation, as they feared a hairline fracture of the skull, but it seems he's okay. He had two scans plus an MRI on his shoulder, and they couldn't find any major damage. One side of his face is covered in "road rash" - not very pretty, but superficial. Thank God for cycle helmets: without it, I'm fairly sure he'd be fighting for his life. or worse.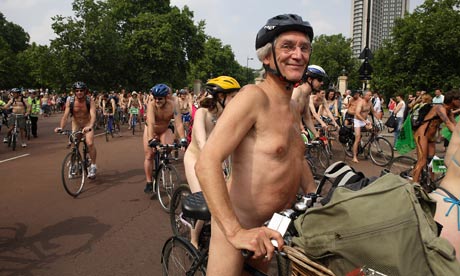 (His road rash would have been worse if THIS was all he'd been wearing!)
His lunch on Sunday was rilletttes, served with bread, a gherkin and pickled onion, followed by chicken chasseur and endives gratinées. There was then a lump of camembert and a dinky little Paris Brest patisserie. As I was there, and hadn't brought lunch, I was allowed to eat his rillettes (very nice) and bread, half the camembert and I accepted a small piece of the Paris Brest. I don't think I've ever had hospital food in the UK, but I'm not sure that it runs to a 4-course meal!!
This shows the food apparently served in Croyden's hospitals. Mr FD's looked much more appetising than this!
He's home now, but on the doctor's advice is not fasting for the next couple of weeks. I am, though, so I'll have to add more to his plate than mine..and try not to go green with Food Envy!
MONDAY:
Porridge + agave syrup (130 cals)
Vegetable stir fry with 100g cooked chicken for me. The chicken is 170 cals, plus a sauce of sweet chilli sauce & soy (40 cals a tbsp) gives me 340 calories. The veg will be 60 cals AT THE MOST so I have 100 cals to play with - egg noodles? a hot chocolate? I'm not sure yet...
(I haven't fallen off the wagon at all. I am keeping on it very well. The weight isn't moving yet, but I've had some success getting into previously tight jeans!)
TUESDAY:
I'll make a pasta sauce with mince and veggies before I go shopping & leave it in the slow cooker. We'll have it with fresh pasta when I get home. Mr FD had agreed that on Tuesdays and Thursdays he'd cook...but the accident has put him out-of-action a bit as he can't lift stuff. So we'll go to the good old Slow Cooker!
WEDNESDAY
is also slow cooker day. I'm going to make
Hawaiian Pork
This isn't quite the recipe - mine uses a tbsp of tomato chutney, & the liquid is stock, soy sauce & wine vinegar but it's a similar thing. Actually mine doesn't include peppers either, but I think I'll rectify that! We'll have it with rice, I think.
THURSDAY:
I'm teaching late, so I'm going to make use of the slow cooker for the third time, so that we have a meal ready when I get home. I'll prepare a sausage casserole - toulouse sausages, a tin of ratatouille and some other vegetables, and we'll have it with crusty bread.
FRIDAY:
Another Fast day for me. I'll not have breakfast, hopefully exist on drinks and a Cuppa Soup until supper time - I managed it last week. We'll have
Salmon Teryaki from this site
- baked in the oven and served with lots of steamed veggies. Mr FD might get a baked potato to have with his. It's about 250 calories, according to the site, so if I've managed to go without the other meals I'll have enough "wiggle room" to allow a banana, and a hot chocolate to finish off the evening.
(Though I fear the hot chocolate will be nowhere near as creamily delicous as this one looks!!!)
SATURDAY:
This week's been a bit meat heavy, so I'll make a veggie curry, which we'll have with naan bread and loads of mango chutney.
SUNDAY: Hairy Dieters Chicken & Vegetable stew.
This looks delicious and yummy and we'll probably have it with mashed potato and maybe a green vegetable.
So, that's the Menu planning for this week. It's a bit more difficult doing it on a Fast Day - my tummy's rumbling!!
Thank you, as always, for your comments.
POMPOM -
Definitely, you need to campaign for a kitty...but I hope you can get one from a refuge, as that way you are helping a Poor Kitty have a much happier life! If your fluffy yellow boy is as placid as our dear marmalade boy you'll be very happy!
ANGELA:
You're right; he is a good neighbour. We are lucky to have several friends and neighbours who drop things off for us to use...monster courgettes are a favourite, during the courgette season!
KATE:
I didn't make the meatballs in the end - I can't remember why - but I like the idea of adding mushrooms as a binding agent. That would add flavour too. Thanks for the tip!
SARA LOUISE :
The little risotto balls were a real faff to do, but they were delicious! I didn't add cheese in the middle - which would have made them even faffier - but I can imagine that some mozzarella would add even more yumminess! Maybe next time!
JANE & CHRIS, and ANGELA:
All cats are scoring top marks on their cat flap report. Some like it more than others - you can't stop Pomme and George using it (even when it's locked they try to use it!) - but it is certainly now used by them all with varying degrees of enthusiasm.
Forgot to say: My back is fine now. See
here
for the full report