Euro-tastic!
It's the evening of the Euro Football Competition final - Portugal vs France. We are in for a not-so-quiet night, I fear. When Portugal won their semi-final there were some Portuguese fans who drove their car through the village several times hooting their horn. At 11 o'clock at night we weren't amused; even less so at 11.30. So there are obviously some Portuguese fans around.
There is already quite a lot of noise (whistles, horns, singing) emanating from the bar across the square, as they gear up to watch the match. If France wins, I don't think there is much doubt that there will be some noisy celebrations going on deep into the night. Windows closed (in 30° heat!) and earplugs in!!
Today we had our Fete du Coeur du Village - there weren't too many people there that we knew - we'd hoped our friends Monique & Michel would be there, but they weren't - but it was good to be involved. I forgot to take my camera so no photos. Apèros started at 12.30 and at 2.30 were still going on! I was preaching in Clermont at the evening service, so couldn't drink much: one glass of rosé-grignotte and that was it. My drink was water bright. There were lots of nibbles - cheese squares, savoury cake with ham and olives (here's a recipe in French), grattons (pork scratchings), crisps, saucisson etc etc.

We were a bit shy, but spoke to Mi-Jo who is the mum of one of our friends, and to Dominique who organised the event. Then the baker, André, started to talk to us too, which was nice. We discussed the referendum (of course!) and learning languages, and travel. When we sat down to eat we ended up at the "young people's" end, so there was a lot of drunken shoutiness going on, which meant we really didn't understand very much of what was being said! Still, it was nice to be included.
Lunch was quiche, cold meat, salad - with yet more wine flowing! - then cheese, and then pate de pommes (a sort of apple pie) and my Banoffi pie. I was worried about whether people would like it, but it was quite popular - one guy had three helpings! André (the baker/ patissier) thought it was good, but a bit too sweet - I agree. I don't actually like it as it's too rich and sweet for my taste. Perhaps making the toffee with unsweetened condensed milk would be better. I use chocolate digestives in the base, so maybe plain ones would cut down on the sweetness too. Anyway, we left before anyone else, at 3.30, to get a shower before I drove down to Clermont...I got back at 8.00 and there were still quite a lot of the people still drinking, and chatting (and possibly eating too!)
Everything has gone quiet. I assume the match has started.
Food is only half planned for this week...
TOMORROW (MONDAY) - pasta with aubergine sauce
WEDNESDAY: Not sure as we had Wednesday's dinner on Saturday. Maybe Saturday's dinner (Mushroom curry) but maybe something else. Mushroom risotto is a possibility. If the mushrooms have lasted. If they're looking dodgy we may have this on Monday.
THURSDAY: It's bank holiday in France, and our friends who run a restaurant are having a hog roast
Here's a picture taken at another of their

méchoui
We are thinking we might go to support them. It's a bit pricey, (15€) but we haven't been out for quite a while, and that covers the main course, cheese and dessert. So it's not TOO bad.
FRIDAY: No idea. I'll decide before I go shopping on Wednesday.
Some singing and whistling, but no loud cheer. I'm guessing there is still no score.
I've spent quite a lot of the weekend zentangling - completing a dolphin and another fairy, and working on a celtic knot pattern too, although that is turning out a bit messy. Work tomorrow - two lessons - and Tuesday - 4 lessons- so it keeps ticking over. Mr FD is enjoying his work, after a shakey start, although the getting up early is taking it out of him a bit! He is doing stuff that he's asked for and seemingly impressing people. It's sad that there is unlikely to be a permanent position at the end of it, as he has been hired to complete a specific project.
Thank you, as always for your lovely comments...
CAROLE - we enjoyed watching "The Disappearance" too, particularly as it was set in Lyon, which isn't far. Lyon is a lovely city, and I think the series showed quite a lot of good views. I think it would be a great place for a mini-break. We went there with my mum, my brother and sister a couple of years ago. You can read about it here at The Teapot
POMPOM Did your Crazy Cat Lady Starter kit arrive? I thought you might like this:
KEZZIE: I'm glad you like the Zentangle. I hope your mum does too.
MICHELLE: Thank you for your kind comment. I'm not sure about taklented, but certainly getting better!!
NATASHA: If you make the felafel burgers do let me know if you enjoyed them. Happy to help over the Grebes.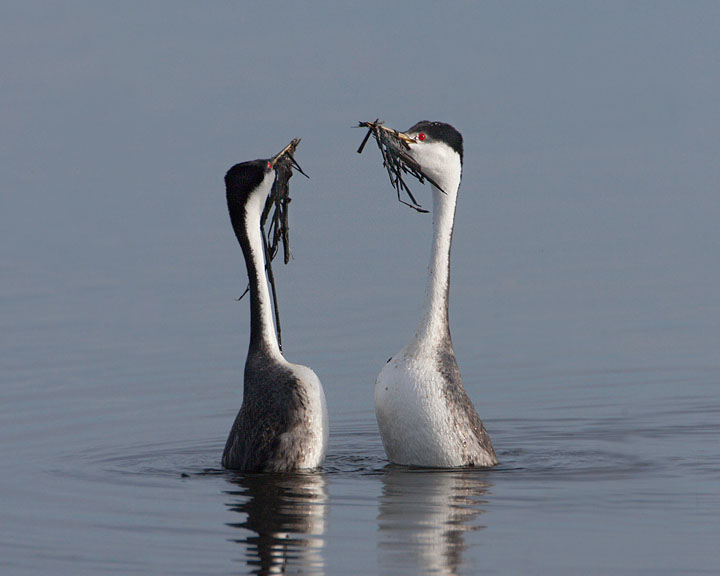 Here's a great photo of two waving weed at each other.
Well...It's half time and there's no score yet, but there's still another 45 minutes to go. Who knows what will happen! Lord, if it goes into extra time the cheers will start even later!! Hey ho
.
I hope everyone has a good week, whatever you are doing. I look forward to catching up on your blogs and finding out what you've been up to.