Back from my Wanderings...
Hello dear Peeps! It's nice to be back. I hope you are all having a good summer/winter (should you be in southern climes)
I have had a busy six weeks - five of them working, one on holiday, and I may well tell you about some of my "adventures" sometime. In fact you can read about My Journey to England over at The Teapot which relates how British Border Control helped one poor traveller find her way to the UK!
Sadly I have come back not feeling great - nothing specific, but generally not "right". I've been feeling under the weather (or, as it is charmingly put in France "not on my plate") for about three weeks, with various stomach-and-related issues. Not wanting to go into too much detail!! I've just managed to get a doctor's appointment for next Tuesday. Let's hope I actually feel beter by then! It's tricky knowing what to say when the receptionist asks "What is it for?" - how much detail does she want? I decided on "Well, it's not urgent, but..." hoping she'd pick up on the "but" bit. She didn't. I suppose that if it is just general under-the-weather-ishness it will have gone by next week. And if it hasn't, then it may be something more serious!
On a brighter note, we bought a new toy in the UK.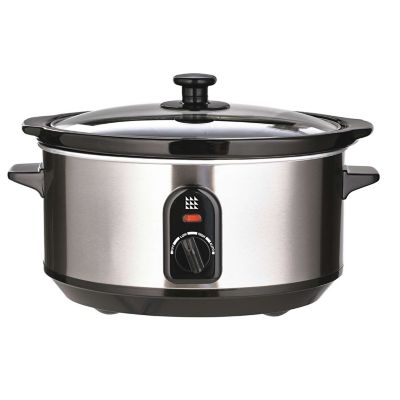 A new Slow Cooker! We have had one since we were married - it was a wedding present, so is over 30 years old - but I've been convinced it's not working properly. So when we saw this one on offer in Lakeland, we bought it. And a recipe book too
So you can expect quite a few of my menu plans to include slow cooker recipes! I've already planned this week's menus - we got back on Sunday evening, but I ddn't unpack until Monday morning. As we were shopping on Tuesday I had to get organised!!
So here we are, back in the swing of things!
TODAY: Bolognaise stuffed peppers and a tomato/onion/basil salad. I'm thinking of cooking a little rice to add to the mix, although we do have some crusty bread to use up too.
THURSDAY: Chorizo, chilli and Bean stew (first outing for the Slow Cooker!) We'll have a littlegem-and-cucumber salad with this.
FRIDAY: Pasta bake, using the rest of the sauce from today's peppers, and some extra added vegetables.
SATURDAY: Slow cooker chicken mulligatawny soup for lunch. And Sticky stem ginger duck for evening meal, which apparantly provides 3 of one's 5-a-day fruit & veggies.
SUNDAY: Another slow cooker meal. This one is Sundried tomato and balsamic lamb stew.
With either mash, or (more likely) crushed new potatoes and some green beans.
MONDAY: Something from the freezer - I think I might take out the ham that is in there and bake that, with a marmalade glaze. Then we can use it for several meals. So baked ham, baked potatoes and salad. Or something similar.
TUESDAY: Ham and vegetable crumble sounds nice (although it is 750 calories a portion!) Maybe I can reduce the fat content a little somehow. Or maybe I'll just embrace it!
While in the UK on holiday with our French friends Louis and Odette, we managed to persuade them that English food (or rather, British food) was actually much better than they imagined. Tey were particularly impressed by the food at the pubs we took them to - admittedly ones that had been recommended or that were in the Good Pub Guide. We were very well fed, and I only had one disappointment of a tasteless pasta dish in one place (altough the French onion soup I had as a starter was excellent!) Odette loved her Feesh-and-cheeps but neither of them were very adventurous on their choices.
The most adventurous they got was on Saturday when we went to The Ambrette in Canterbury, where we had the "Tasting Menu" - and that was really because we forced them into it!!
Wild fennel lassi, chargrilled artichoke hearts, stir-fried wild garlic
Wild fennel is a fantastic coastal vegetable with a characteristic numbing effect on the tongue. Wild garlic is abundant this time of the year and almost unmistakable with its wide dark green leaves and balls of star shaped white flowers.

Soft shell crab, exotic Nutbourne tomatoes, Sevenscore asparagus

Cumin flavoured gazpacho, Kent goat's cheese, spiced home-made bread
Gazpacho, the famous soup from the Andalusia region of southern Spain, is an amazingly refreshing foil to a hot summer day. This drinkable salad has been around since Roman times.

English Grain fed beef striploin
Yukon gold potatoes, poached beetroot, pickled pears, sauce of apricot and root ginger.

Summer pudding, rum soaked lychees, passion fruit kulfi
(descriptions taken from the menu)
Mind you, let's be honest, that is fairly adventurous!! I wasn't totally sure about some of the courses, but they were all delicious. The only slight letdown was the pudding, which didn't quite go with all the other delicate (and not-so-delicate) Indian flavours. If you should ever be in the Canterbury/Margate/Rye area (there's a restaurant in each town) I would recommend the Ambrette, even if you don't think you like Indian food.
Well, that's about it for now. I look forward to catching up with all your blogs, which I've missed while I've been away. It's nice to be back!