Christmas is coming, the Mouse is getting fat!
Well, not really. I am still fasting (or semi-fasting) two days a week, but I think that after next week I may let that slide for a couple of weeks.
I have been buying "little extras" for the last couple of weeks, and on Thursday I went to the Irish Shop in Clermont and bought mince pies! Woo-hoo! I know that lots of people make their own, but I'm useless at making pastry, and I find it all a bit of a faff. So Mr Kipling has come (rather expensively!) into our house for Christmas - but I fear he will be devoured sooner than 25th!
Source: ocado.com
I have found a recipe for festive alternative mince pies (sort of mince buns) which I think I will try.
(15 minutes later after I have trawled through the Facebook site where I found the recipe!):
4oz SR flour, 4oz butter, 4oz golden castor sugar, 2 eggs -
mix ingredients all together and the add 3 heaped tablespoons of mincemeat.
Divide into 24 paper cake cases and bake on electric number 5 for 20 minutes.
Once cool make Orange glaze which is 3/4 tablespoons of icing sugar, grated orange peel and 1-2 teaspoons of the Orange juice to mix it all together and coat tops of the cakes.
We have a Christmas party at Line Dancing next Wednesday, so I think these would be a good thing to make and take. I have a jar of mincemeat from last year, so I'll use that. We have been asked to wear Christmas hats so I have decided to use a straw hat from last summer, with tinsel and Christmas stars on it. I didn't want to buy a cheap and tacky Santa hat, so I thought this would be a festive - and appropriate - alternative.
I'm also out for lunch with some students on Thursday, so Mr FD will be fending for himself those two evenings (except that I'll cook it and he'll just need to heat it up!) He is recovering well from his operation, although he is still in some discomfort, especially as the staples were removed yesterday. He can do a few things, but mostly he's just moving between the sofa and the computer in the dining room.
I was happy to receive my Christmas Cracker swap from Ellie at Feltabulous on Tuesday. I wasn't going to open it, but she persuaded me to do so! I took lots of photos, but as my friend borrowed my camera-to-computer cable and hasn't returned it yet, I can't transfer them. Suffice to say, I was very happy (earrings! Chocklit! Lovely vintage paper!) and hope she was as happy with the presents I sent her. I can't remember what I sent, but will link to her blog when she posts about it. I did (bien sur!) send a zentangle. I have to do a zentangle today for the Secret Santa at the Christmas lunch on Thursday.
I have also bought a stollen and some Pain de Noel - which is a nutty/fruity loaf which will be delicious toasted with lots of butter!!
SOURCE: dunouveauencuisine.com
In the past weeks, I have purchased a whopping slab of smoked salmon (half price! Now in the freezer), foie gras, luxury nuts and fruit mix, chocolates, florentines, bottles of wine and fizz and crispy things. We're almost set. It's much easier to spread the shopping over a few weeks - but it's not so easy to resist the temptation of pralines that are sitting there, waving at you!
We still haven't decided what our main course will be. We are tossing up between duck and beef wellington. I think the
beef wellington
will win.
with roast potatoes, parsnips, and a green vegetable.
Menus this week are reasonably straightforward:
TODAY:
Hairy Dieters' Caribbean Chicken curry
SUNDAY:
Hairy Dieters' Pork with apples and cider
- basically
this recipe
but with a rolled shoulder, and no cream! Though I like the idea of cream and as it's not a fast day we may indulge!
MONDAY:
Cold pork
, chips and ratatouille.
TUESDAY:(fasting)
Bean burgers,
and salad
WEDNESDAY & THURSDAY (for Mr FD)
Soufflés Lyonnaise
s with a chorizo/bacon/tomato sauce.
This is a picture of a Lyonnaise soufflé. They are a kind of dumpling-y thing which puffs up when cooked in a sauce - often they are made with minced pike, or chicken, but you can buy them "
nature
" which is made with just eggs and flour etc. They are nicer than they sound!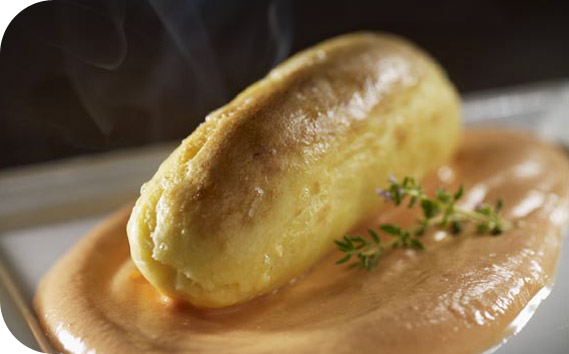 FRIDAY: H
airy Dieters' Spaghetti with prawns and courgettes
(Not quite but nearly
this recipe
)
Thank you again for comments!
TRISH
: Colouring books for adults have really taken off here in France - there are loads of them! I bought one myself, but more for the sayings than for the colouring...although I do find it therapeutic. For example, you could buy this...
SOURCE:
cultura.com
...but I prefer my Zentangling!
SARA-LOUISE: I like ostrich and I have noticed it's taking off at the moment in France...There was a vast array in Carrefour yesterday. I just bought Beef Cheeks however (ready prepared) as Mr FD loves them!
MAGGIE: I think you should try ostrich (and kangaroo) - both are lower in cholesterol than beef, I believe, and they are a tasty alternative.
KEZZIE - get thee to thy freezer and clear it out!! You never know what you will find!

And this is why we only have Christmas twigs this year:
(Though even the Christmas twigs have caused rather too much interest!)