Insert witty title here:
Hello Dear Peeps!
This week has been a bit up-and-down, especially food/diet-wise. I was happy to have lost another 1kg, which makes it 5 kg since Christmas, but I have found fasting difficult. I'm working away from home more at the moment, and I feel slightly concerned about getting very hungry, as I go slightly woozy. If I'm at home all day that doesn't matter, but if I'm driving when woozy I think that's less good! So I'm "semi-fasting" on three days a week: that is, I'm eating less than on the other days. Egg-on-toast, soup & fruit for lunch, then a 300 calorie dinner. On other days I allow myself a biscuit with lunch and some chocolate after my evening meal (OR a glass of wine!) Still, if I keep losing weight then that's all good.
I wore my "aspirational jeans" all day yesterday - these are jeans which I haven't been able to wear since we moved here in 2005, but which I kept because they were in such good condition! They were a little bit tight, and by the end of the day my belly had red "jeans marks" but they weren't what one would term uncomfortably tight. Other jeans that I bought last year are now falling down without a belt, and I have needed to buy a new belt as well!
It's not quite this bad...but getting there!
Last week's menus got swopped about a bit, so we're having the Spanish omelette tonight (which is good as a friend gave us 10 very fresh eggs from their chickens yesterday) and last night I made a quick chicken-and-mushroom pie with one small chicken breast, some wrinkly mushrooms and some chopped chorizo, with a topping of filo pastry from the freezer, which had crumbled into flakes! Still tasty though!
We're going to the UK next week - to see our Mums, but also to go to an Elbow concert in Liverpool on Saturday evening. Very excited, happy dance. We last saw them in Paris in November 2011 in a small club . This time: the Echo Arena in Liverpool - slightly different size! My brother & sister will come and meet us on Sunday in a pub that is sort-of equi-distant between Leicester, Stokesley and Liverpool. Mike booked it & it looks good:
Mr FD has already perused the menu online and is looking forward to Lambs liver, black pudding & smoked bacon mash, with onion gravy. He adores liver, but the very thought makes me shudder!!
So my menu plans this week are just up to Tuesday:
This is from the Woman recipe book - you could win the app for this. Please enter the Giveaway competition - otherwise I will look a numpty!
Mediterranean Vegetable Chilli - again from the recipe book.(see, it's full of yummy recipes!!) I'm going to prep this on Sunday though, as I don't get home on Monday evening till late and nor does Mr FD. (Though that may change - his new job is not working out at all well for various reasons, so he might be giving it up. If you're of the praying nature, please pray that he makes the right decision...)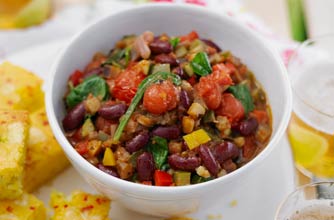 which we'll have with rice & salad.
Then it's off early on Wednesday to drive to Calais...
As usual, thank you so much for your comments...
MONIQUE: Sorry you can't (don't want to..) enter the giveaway - I do understand why though...an app's no good without anything to put it on to!! If you want to try the recipes, I do recommend buying the book...I think it's good value and I would be tempted (if I hadn't been given a free one. Big smile!)...and truly, I'm not just saying that!!
KEZZIE: I hope you do enter - I'm like you with apps though. On my tablet I rarely use them (I forget I have them, to be honest!) except to catch up with The Guardian online. The flatbreads were delicious (and so easy!) and I will definitely be making them again!!
POMPOM: Are you going to enter the Giveaway? I'm extending the deadline... I love the way you always try to identify the breed of cat in my pictures! What about this one?!
JEAN So sorry to hear about losing your kitties. That is not good. I hope you enjoy the random cat pictures I throw into my blog...like this one:
Anyway - I must get to the bank before it closes...cheques to put in!
See you in a couple of weeks!