Rapid(ish) Fire Posting!
I have a fairly free morning today - which is rare. Because the schools are on holiday I don't have the same number of students this week, so I can relax a little and I don't need to plan for them. I can do that next week. I do have a bit of planning to do, so I can't spend too long blogging.
I've already spent an hour menu planning for the month ahead - I like to do this, although it is (of course) a little fluid, depending on various things. For example,last Thursday I found chickens reduced to half price. I bought two, popped one in the freezer, but used the other over the weekend. We had a Sunday roast on Friday evening (!), we had chicken legs with chunky chips and coleslaw on Saturday, and on Sunday we were at a friends' house. Because I'm fasting today, I'm saving the rest of the chicken to make a chicken and bacon pie tomorrow with a chicken-carcass-and fridge-bottom soup as well.
So the menus this week are:
TODAY (Monday)
As we didn't have the cod as planned on Friday, I need to use it today. But the planned meal isn't 5:2 so I'm changing it to Marsala spiced cod with 25g rice. I have prawns too which need using so we're having a piri-piri prawn starter too. It still only comes out as just over 400 calories for the whole meal!
TUESDAY
Chicken & ham pie, carrots and mange tout. I would normally buy puff pastry but (if I have time!) I'll try making my own shortcrust. I don't have pastry hands so it might be an unmitigated disaster!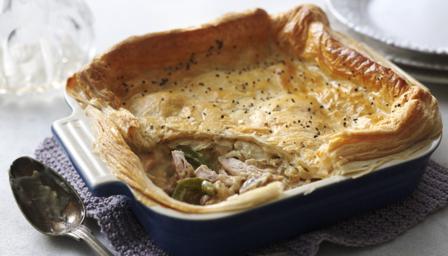 WEDNESDAY
Vegetable pasta bake - using up all the stuff in the fridge. I fear I may be wasting some salad stuff (though if it's not exactly slimy it will have gone in the soup on Tuesday!) as I bought some & then we were given two heads of salad. I'm not sure if it will be still edible now. Otherwise the veggie bake will use the bits of pepper, carrot etc that are hanging around.
THURSDAY
It's my birthday! Woo-hoo. Still fasting though.
Turkish lamb and potato stew - It's 307 calories a portion - maybe I can allow myself a celebratory glass of wine. Or a cake from the patisserie. The recipe is from my 5:2 cook book.
I use this SO much for our fasting day recipes. It is absolutely brilliant!!
Basically, for this recipe, you
Peel & slice 375g tomatoes
Brown 500g lamb in 1 tbsp oil
Add 4 onions, chopped/cut into wedges + 2 crushed garlic cloves. Fry gently for 5 minutes
Add 750g peeled chopped potatoes, the tomatoes, 1 chopped red/green pepper, 900 ml stock & 2 tbsp wine vinegar.
Add 2 bay leaves + 1 tbsp dried herbs. Cover & simmer for 1 hour.
Add 1 chopped aubergine. Bring back to boil & simmer for a further 45 minutes. Stir occasionally. Serve
Mr FD will be in charge of this, as I will be working until late.
FRIDAY
Salmon/chilli/coconut milk/ leeks/noodles combo. Yum!
This is
almost the recipe
but I use coconut milk (not cream), I poach in a pan, not the oven, and I add shredded leeks into the poaching liquid. It is lush.
SATURDAY
The plan is to go out to a restaurant with friends. I'd like to go to La Murette, but it might be to La Poste round the corner. As long as it is delicious I don't really mind. There are some good restaurants in Roanne I'd like to try, but it means that someone can't drink, which is a shame...
SUNDAY
Mr FD isn't a huge fan of lentils, I know, but from time to time I think they're A Good Thing to have.
I have a pork tenderloin in the freezer that I bought on a BOGOF offer a couple of months ago, so I'll use some of that for this recipe & some for tomorrow's dinner as well.
PomPom: I can't help thinking that if you're not a dried fruit cake eater even the feeding it with brandy won't make a Christmas cake palatable!!! Do you have a cake at Christmas/Thanksgiving? What kind of cake do you have?
Marigold Jam

: Unfortunately Dad died before I got onto making my own Christmas Cake, so he didn't leave me a needle in his will (I hope the ones mum used were sterile!!! One wonders what we might have ended up catching!!) Maybe I'll ask our doctor friend in the village for one (or even our nurse friend - for whom I've made one of the cakes!)
Frugal Mum:

I hope your baking goes well. I love the run up to Christmas too. My blogging friend Floss usually organises A Pause in Advent which encourages us to think about God in the Advent season. I find it a timely reminder of (and I hate the phrase but it seems appropriate!) The Reason for the Season
And here's a LOLcats before I pop off to finally do some work:
Tee-hee.